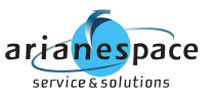 A major step has been accomplished by Arianespace for the Flight VA231 mission, wherein the upper payload container that holds the SkyMuster™ II satellite, which is mounted on the SYLDA dispenser system and protected by an ogive-shaped fairing was lowered into position over the GSAT-18 satellite, previously installed on top of the central core of the launcher.
This action clears the way for final checkout, which will enable the launch readiness review to be conducted on September 30th, followed by Ariane 5's rollout to the Spaceport's ELA-3 launch zone the following Monday and an early evening liftoff on Tuesday, October 4. This upcoming mission will deliver the two telecommunications payloads into geostationary transfer orbit.
To be deployed first during the 32 minute flight sequence is Sky Muster™ II, which was produced by SSL (Space Systems Loral) for Australian operator nbn™. Carrying Ka-band transponders and with a liftoff mass estimated at 6,400 kg, the satellite will help extend high-speed Internet across Australia, including the Norfolk, Christmas, Macquarie and Cocos islands.
Ariane 5's second passenger—GSAT-18—is a 3,400 kg spacecraft developed by the Indian Space Research Organisation (ISRO) with 12 transponders in Ku-band and another 24 in C-band. Once in orbit, this satellite will provide telecommunications services for India, strengthening ISRO's current fleet of 14 operational satellites.
Flight VA231 will mark Arianespace's eighth of 11 missions targeted in 2016 and is the company's fifth this year using an Ariane 5, which is one of three launch vehicles operated by Arianespace at the Spaceport along with the medium-lift Soyuz and light-lift Vega.