[SatNews] There promises to be a strong military program at this event in May...
Expect a dynamic start to the Space Foundation's 30th Space Symposium with featured speaker Gen. William L. Shelton, USAF, Commander, Air Force Space Command, opening the general program on May 19.
The 30th Space Symposium will be held May 19-22 at The Broadmoor Hotel, in Colorado Springs, Colorado, USA.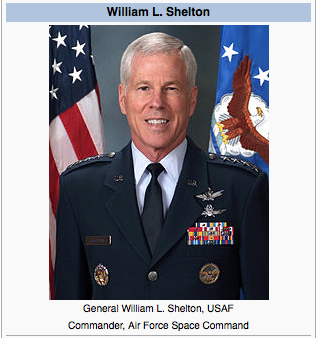 The strong military content will continue as Gen. Shelton is followed on stage Tuesday morning by Brig. Gen. Jeffrey A. Farnsworth, USA, Deputy Commanding General for Operations, U.S. Army Space and Missile Defense Command (USASMDC)/Army Forces Strategic Command (ARSTRAT).
Widely known as the most important worldwide space industry conference, the Space Symposium annually attracts more than 9,000 participants, and more than 100 speakers and panelists representing top space decision makers from military, civil, commercial and academic organizations from around the globe.
Other 30th Space Symposium military and defense speakers include:
Col Dominique Arbiol, FAF, Deputy Commander, Joint Space Programme, Ministry of Defence, France
Col. Neal Barlow, USAF, Acting Chief Scientist, Air Force Space Command, United States Air Force Academy
Lt. Gen. James R. Clapper, USAF, (Ret.), Director of National Intelligence
Letitia A. Long, Director, National Geospatial-Intelligence Agency
Douglas L. Loverro, Deputy Assistant Secretary of Defense, Space Policy, Office of the Under Secretary of Defense
Lt. Gen. John W. "Jay" Raymond, USAF, Commander, 14th Air Force
Brig. Gen. Roger W. Teague, USAF, Director of Strategic Plans, Programs and Analyses, Air Force Space Command
Maj. Gen. Martin Whelan, USAF, Director of Requirements, Headquarters Air Force Space Command
As commander, Air Force Space Command, Peterson Air Force Base, Colo., Gen. Shelton is responsible for organizing, equipping, training and maintaining mission-ready space and cyberspace forces and capabilities for North American Aerospace Defense Command, U.S. Strategic Command and other combatant commands around the world.
Before assuming his current position, Gen. Shelton was the Assistant Vice Chief of Staff and Director, Air Staff, U.S. Air Force, Pentagon, Washington, D.C., and Chief of Warfighting Integration and Chief Information Officer, Office of the Secretary of the Air Force, the Pentagon, Washington, D.C.
Lt. Gen. John W. "Jay" Raymond will Speak at Space Warfighters Luncheon
A proud tradition at the Space Symposium is the annual Space Warfighters Luncheon, which celebrates the men and women who serve in the military around the world.
The featured speaker for this year's luncheon is Lt. Gen. John W. "Jay" Raymond, USAF, Commander, 14th Air Force (Air Forces Strategic), Air Force Space Command; and Commander, Joint Functional Component Command for Space, U.S. Strategic Command. The Space Warfighters Luncheon will be held Tuesday, May 20, at The Broadmoor Hotel, and is co-sponsored by United Launch Alliance (ULA).
About Gen. Raymond
Gen. Raymond recently assumed command of the 14th and is the key leader of Air Force Space Warfighters. As the U.S. Air Force's operational space component to USSTRATCOM, Gen. Raymond leads more than 20,500 personnel responsible for providing missile warning, space superiority, space situational awareness, satellite operations, space launch and range operations. As Commander, JFCC SPACE, he directs all assigned and attached USSTRATCOM space forces providing tailored, responsive, local and global space effects in support of national, USSTRATCOM and combatant commander objectives.
Space Foundation Again Offers 2010 Rate for Active Military/Government Registration
For 2014, the Space Foundation is again offering a low registration rate for active duty military and government personnel, offering the same rate as 2010 pricing.
The government/military rate for the four-day 30th Space Symposium is $790, and includes admission to Symposium general sessions and receptions, and to the Boeing Exhibit Center, plus one ticket to each dinner and a ticket to one luncheon. This special rate does not apply to contractors who work for or with the government or military.
See the agenda at www.spacesymposium.org, and look for details on new additions to the Symposium for 2014, including Wednesday's Technical Track presentations and panels, which require separate registration.
Space Symposium and Cyber 1.4 Meals and Registration
The 30th Space Symposium is preceded by a full-day cyberspace conference, Cyber 1.4 on Monday, May 19, at The Broadmoor Hotel. Congressman Lamar Smith (R-TX), chairman of the U.S. House Committee on Science, Space and Technology, will give the Cyber 1.4 keynote speech. See details about meal tickets, and register for both the Symposium and Cyber 1.4, at www.SpaceSymposium.org.
Co-sponsors
The Space Symposium officially kicks off Monday evening, May 19, with a spectacular opening ceremony, co-sponsored by Northrop Grumman. Other event co-sponsors include: a.i. solutions; Aeroflex Microelectronic Solutions; Aerojet Rocketdyne; Airbus Group, Inc.; Arianespace; ATK; Ball Aerospace & Technologies