At first there was a change of launch time adding a three hour delay for a launch at 2 am EST. However, the countdown clock outside of Kennedy Space Center has since turned off the countdown clock sending conflicting reports as to whether there will be a launch.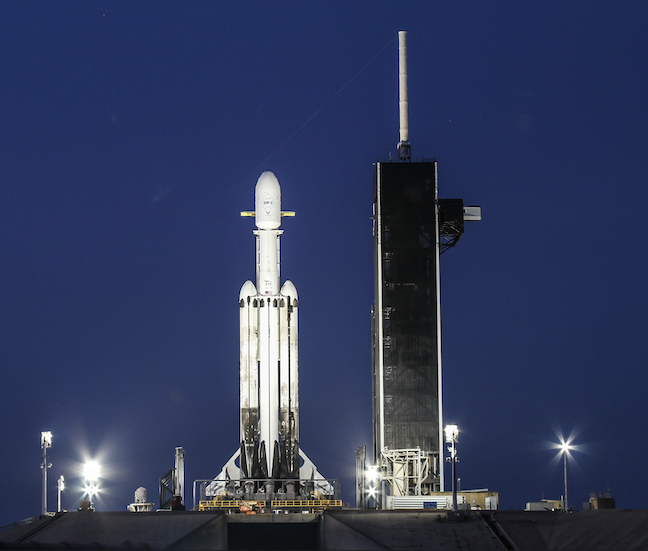 A SpaceX Falcon Heavy launch vehicle rolled onto historic Launch Complex 39A during the pre-dawn hours today, in preparation for tonight's Department of Defense Space Test Program-2 mission. The U.S. Air Force's Space and Missile Systems Center manages the Space Test Program on behalf of the Defense Department. The following is information released from U.S. Air Force's Space and Missile Systems Center.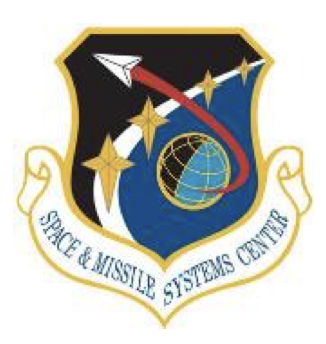 STP-2 will be the first DOD mission on SpaceX's newest and most powerful launch vehicle, demonstrating the first re-use of launch vehicle flight hardware for the Defense Department, and the first multi-payload, multi-orbit mission for the Falcon Heavy.
The STP-2 mission is scheduled to lift off June 24, providing space access for 24 space experiments sponsored by the Defense Department, NASA and the National Oceanic and Atmospheric Association. The technologies on board STP-2 will improve weather forecasting, space environmental monitoring, propulsion, communications, and many other advanced space technologies.
The launch window opens at 11:30 p.m. Eastern (8:30 p.m. Pacific) and will remain open approximately four hours. A live-feed will begin 20 minutes prior to the launch, concluding approximately 45 minutes afterward. A simulcast of the broadcast can be viewed at https://www.spacex.com/webcast and www.nasa.gov/multimedia/nasatv/index.html#media.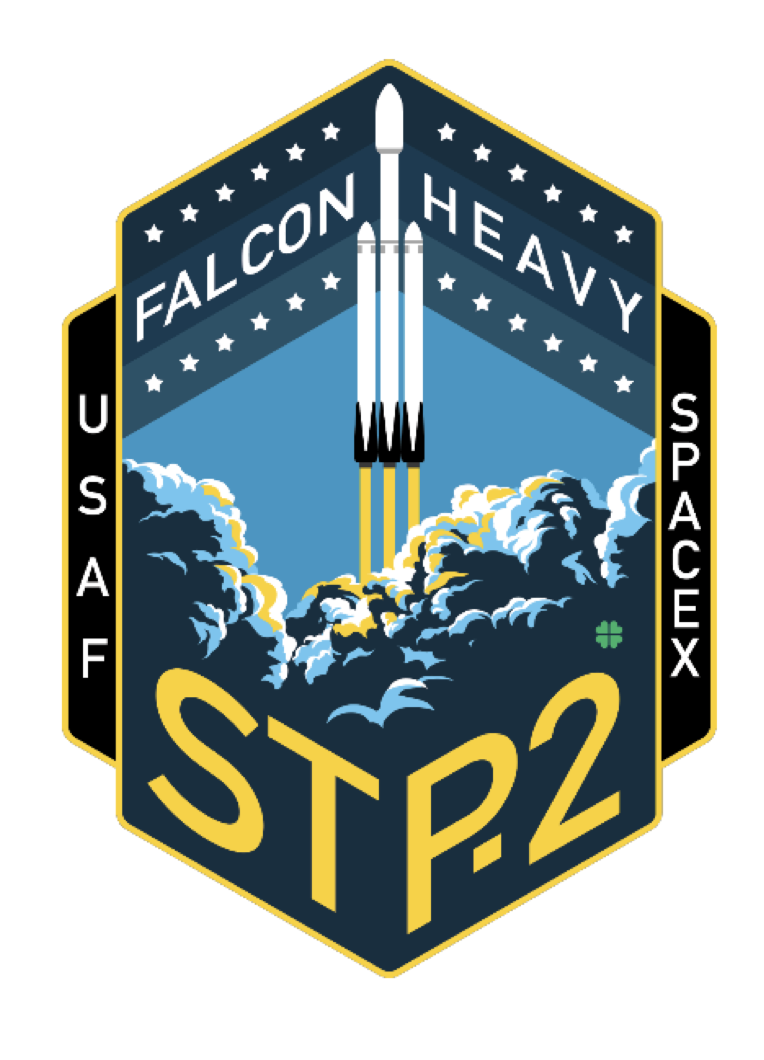 "We're thrilled about the upcoming STP-2 mission," said Lt. Gen. John F. Thompson, SMC commander and Air Force program executive officer for Space. "It's an exciting partnership with NASA, NOAA and SpaceX to provide space access for important military and civil experiments while demonstrating the Falcon Heavy launch vehicle capabilities for future operational National Security Space missions. The STP-2 mission exemplifies our SMC 2.0 transformation—we're pursuing innovative new ways to deliver space capabilities for the Air Force and the Defense Department."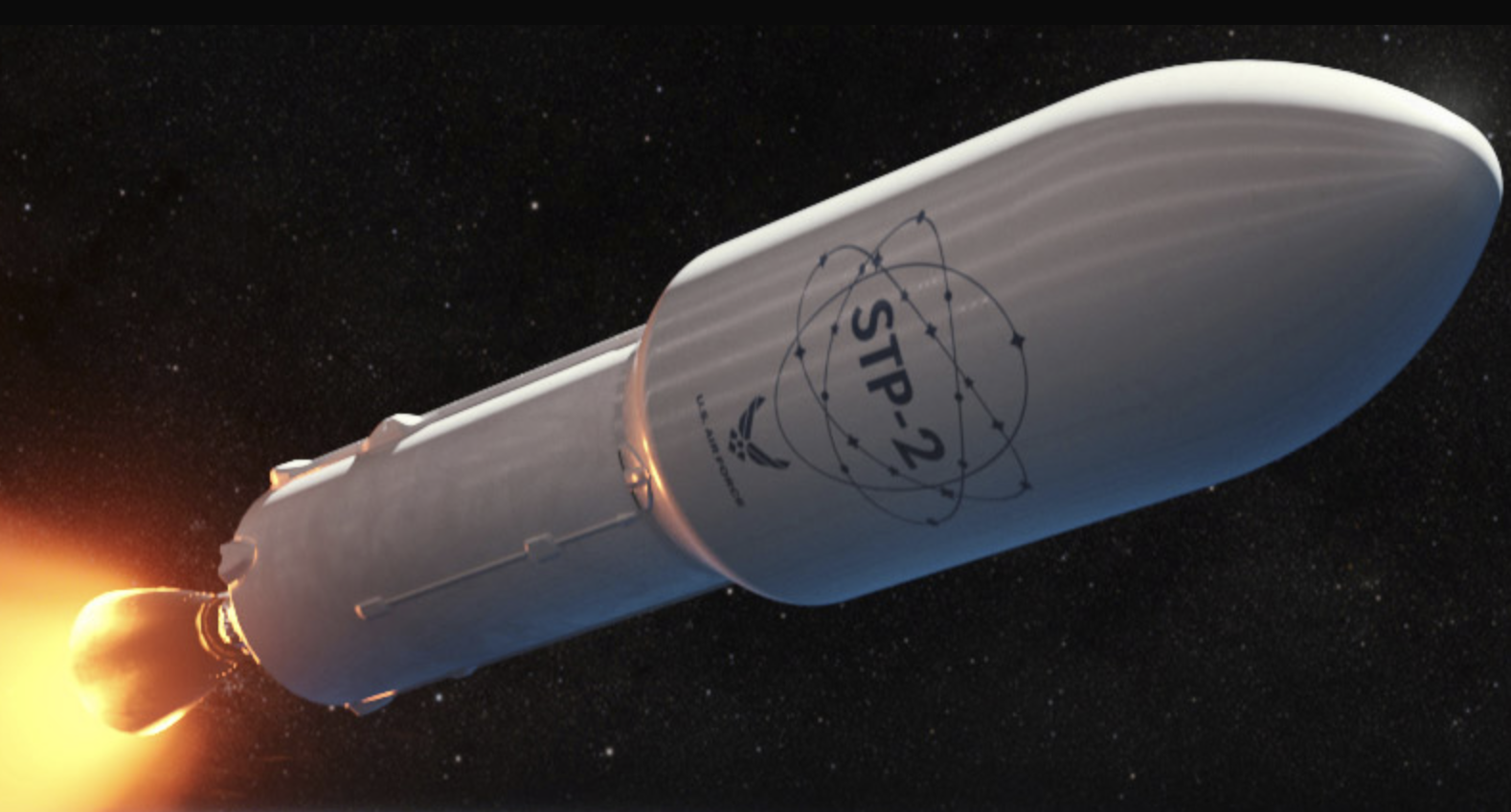 The STP-2 mission will deliver 24 total spacecraft to three distinct space orbits using multiple launch vehicle upper-stage burns and maneuvers. One of the primary missions on board STP-2 is the Air Force Research Laboratory's Demonstration and Science Experiments satellite. This experiment will research technologies to improve spacecraft operation in the harsh radiation environment of medium-Earth orbit.
Another primary mission, the NOAA-sponsored Constellation Observing System for Meteorology Ionosphere & Climate-2, or COSMIC-2, is a constellation of six spacecraft that will measure atmospheric distortion of Global Navigation Satellite System signals to improve severe weather forecasting models. COSMIC-2 is an international collaboration between the American Institute in Taiwan and the Taipei Economic and Cultural Representative Office in the United States, with additional support from NOAA, the University Corporation for Atmospheric Research, and Taiwan's National Space Organization. Air Force Space Command's Space and Missile Systems Center shares responsibility for this effort with multiple national and international / Allied mission partners, including NOAA, AIT, TECRO, UCAR, and Taiwan's NSO.
The STP-2 mission also includes four unique NASA experiments, five small satellites, eight Poly-Picosat Orbital Deployers containing eleven CubeSats, and multiple other research experiments. The STP-2 mission will provide the U.S. Air Force with insight into the SpaceX booster recovery and refurbishing process, enabling future National Security Space missions on SpaceX launch vehicles using previously flown boosters. The Defense Department's Space Test Program and the Rocket Systems Launch Program, located at Kirtland Air Force Base, New Mexico, are both under Air Force Space Command's Space and Missile Systems Center.
This history-making launch featuring re-used boosters is anticipated to draw a huge crowd of spaceflight aficionados comprising the Defense Department workforce, who are taking it upon themselves to make the trek—on their own time and at their own expense—to witness this significant event.
The Space and Missile Systems Center, located at Los Angeles Air Force Base in El Segundo, California, is the U.S. Air Force's center of acquisition excellence for acquiring and developing military space systems. Its portfolio includes the development of advanced space and launch capability and systems, global positioning systems, military satellite communications, defense meteorological satellites, space launch and range systems, satellite control networks, space-based infrared systems, and space situational awareness capabilities.
Falcon Heavy's side boosters for the STP-2 mission previously supported the Arabsat-6A mission in April 2019. Following booster separation, Falcon Heavy'stwo side boosters will attempt to land at SpaceX's Landing Zones 1 and 2 (LZ-1 and LZ-2) at Cape Canaveral Air Force Station in Florida. Falcon Heavy'scenter core will attempt to land on the "Of Course I Still Love You" droneship,which will be stationed in the Atlantic Ocean.