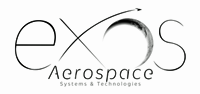 EXOS Aerospace Systems & Technologies, Inc. has announced their "Reuse Viability Test" for the company's SARGE Suborbital Reusable Launch Vehicle (SRLV) — March 2, 2019, is the date s for the first reuse flight (Mission 1) of SARGE.
Exos completed the Pathfinder Launch on August 25, 2018, from Spaceport America. That was the first step in validating the SARGE SRLV that was flown and recovered for reuse. Exos gathered critical flight data that enabled advancing the design and setting them up for continued reuse of their SARGE vehicle. YouTube video recaps of the day are available for viewing at this direct link...
The "Mission 1" test flight of the SARGE reusable system will carry the commercial payloads flown under the programs listed below. A successful launch will further solidify the company's plan to use this technology as the design basis of their Jaguar orbital launch vehicle with reusable first stage capable of carrying 100 kg. to LEO (200 to 400 km.).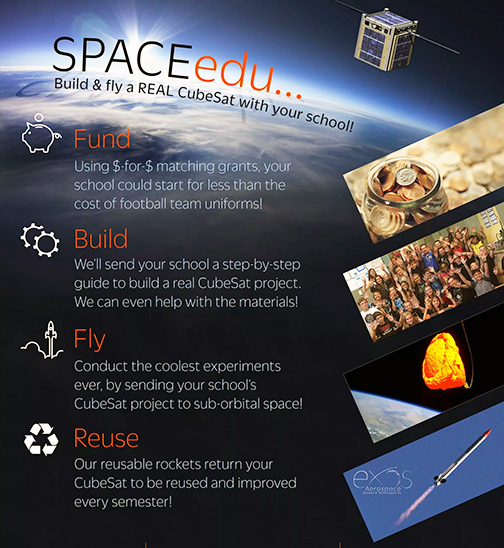 Flight programs and associated payloads on the scheduled March 2nd 2019 flight include:
SPACEedu… Help your school fund, build, fly and reuse CubeSat projects for their S.T.E.M research programs. Having already flown for many schools, Exos is literally taking education to a higher level. P1. Arete' Greater Nanticoke Area Trojans (space thermal energy transfer experiment).
SPACEbuild… Test or manufacture in space aboard an Exos vehicle for premium exposure to space flight conditions. The reduced cost of suborbital flights makes it a preferred risk mitigation step for qualifying orbital payloads. P2. NASA (Vibration Damper - TRL advancement), P3. University of Central Florida (Dust Aggregation experiment - SPACE-2 NASA REDDI Payload), P4. Agronautics, LLC (Space hops & grain), P5. SOLGW (memorabilia)
SPACEaid… Perform breakthrough medical research by leveraging the ability to test in the microgravity and vacuum of space. With Exos we can return your payload within minutes of landing. The company's soft (5G) launch and fin stabilization means a gentle ride for a payload requiring less effort in payload design over other commercial launch options. P6. Center for Applied Space Technologies (Sponsoring Mayo Clinic for two "BRIC66" payloads performing cell research)
SPACEship… Launch from Spaceport American in New Mexico and Exos will deliver your payload to space and eject it to perform your test outside the company's vehicle.* (LEO target aboard our reusable (first stage) Jaguar vehicle - late 2022).
* Ejected payloads have a >60day (normal) lead-time as Exos has to
license the payload ejection and your payload/recovery system must
meet FAA/AST safety requirements.
Exos Aerospace will next shift to commercial operations.
John Quinn, EXOS COO, said that with a successful flight, the company will leave the testing phase and focus on the engineering of the Jaguar reusable (first stage) LEO launcher. The company looks forward to supporting space research, manufacturing, and educational opportunities for the world by providing frequent suborbital flights that provide fast and affordable access to space. As the 36 foot tall 20-inch diameter SARGE rocket is designed for reusability, it is proving to be an excellent risk mitigation platform for the Exos orbital technology development program. The software and technology the company has developed is key to development of the reusable first stage of the firm's planned Jaguar vehicle. SARGE and Jaguar will use NASA's Morpheus flight code (acquired through a Space Act Agreement) that was modified by a team of Engineers from Exos Aerospace, Intuitive Machine, C-Squared Systems, Helios and XISP Inc.
John continued by stating the additional planning involves the development of orbital reuse life prediction as well as a focus on STEM education, adding that Exos plans to apply to the NASA REDDI program to fund the inaugural "National Science Fair" flight.