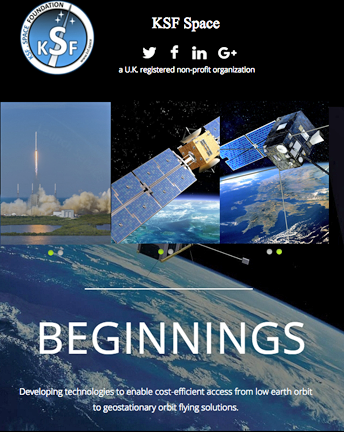 KSF Space and STEAMSPACE® in the U.S. have signed a partnership agreement, where KSF Space will be providing and supporting the cross benefits of educational and space events in collaboration with STEAMSPACE — these activities include elements such as an ISS contact, cubesat for schools, launching near space missions, and so on.
STEAMSPACE Education Outreach supports the integration of Science, Technology, Engineering, Art and Math. In supporting this integration, along with Space Education and progressive education practices, such as Project Based Learning and Social Emotional Learning, it is the organization's hope that future leaders will be ready in all ways for the exploration and colonization of space — these visionary leaders will help expand humanity into all corners of the known universe.
KSF Space Foundation was initially founded to enable cost-efficient access to LEO with zero environmental impact flying solutions. The foundation offers access to near-space and LEO for research and scientific experiments in many fields, such as Earth or Space Observation, biological testing, satellite positioning detection, Earth magnetic field measurement, radio transmit, atmosphere science and technology experiments.
KSF Space Foundation has also announced the launch of the world's first NanoSatellite Engineering Professional "NEP Certification" for space education and the space industry.
Dr. Kayyali Mohamed, Chairman of KSF Space, said that this agreement would allow the company to land and expand KSF Space educational and research activities cross the U.S. in schools and college. This agreement with STEAMSPACE is a great portal for both organizations toward STEM initiatives in the U.S.