An agreement made between Jeff Bezos of Blue Origin and Shinji Takada of Sky Perfect JSAT was announced at Satellite 2018. This article is by Alan Boyle of Geekwire.
Blue Origin, the space venture founded by Amazon billionaire Jeff Bezos, says it has signed up Japan's Sky Perfect JSAT for a satellite launch to geostationary orbit in the 2020s.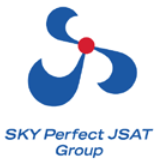 Today's announcement of the deal was timed to coincide with the Satellite 2018 conference in Washington, D.C., one of the year's top events for satellite operators and launch providers.
In its tweet, Blue Origin didn't provide much detail about the deal, such as the pricing or the timing for the launch. But the agreement involves sending up a yet-to-be-named Sky Perfect JSAT satellite on Blue Origin's New Glenn rocket, which is currently under development.
Blue Origin is targeting 2020 for the first launch of New Glenn — which is named after the late senator-astronaut John Glenn, the first American to orbit Earth.
The rocket is to be built at Blue Origin's 750,000-square-foot manufacturing facility in Florida, and launched from Launch Complex 36 at Cape Canaveral Air Force Station in Florida.
Sky Perfect JSAT is one of the Asia-Pacific region's leading satellite operators, providing broadcast TV and other data services. Three of the company's JCSAT satellites were launched in 2016 on SpaceX Falcon 9 and Ariane 5 rockets.
Blue Origin now has satellite launch agreements with four companies. Last year, the company reported deals with Eutelsat, OneWeb and mu Space. Today Blue Origin said its memorandum of understanding with Thailand-based mu Space has been converted into a firm contract for a geostationary satellite launch.
Bezos founded Blue Origin in the year 2000, and the company's workforce now exceeds 1,400 employees. Its headquarters are in Kent, Washington, but it has its New Shepard suborbital launch operation in West Texas and a growing orbital development team in Florida.
Blue Origin is in the midst of testing its next-generation BE-4 rocket engine, which is slated to be used on New Glenn as well as on United Launch Alliance's Vulcan rocket. Meanwhile, Blue Origin's New Shepard suborbital spaceship, which is powered by the hydrogen-fueled BE-3 engine, is undergoing uncrewed flight tests and could start taking on passengers within the next year.