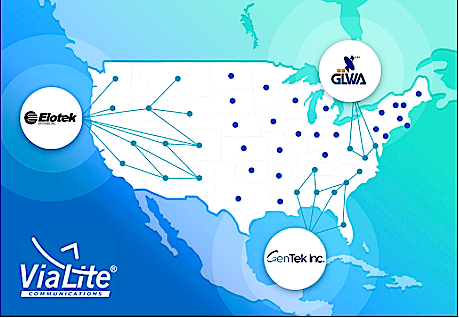 This company is now able to service their many clients more efficiently due to the new partnerships that have been cultivated. Three companies have been enlisted, each with numerous offices that will assist with sales and technical support in major locations throughout the U.S. as indicated with the map shown here.

RF over fiber manufacturer, ViaLite Communications, has made three major additions to its sales representation network in the USA. These new partnerships are with Elotek Systems covering the western half of the United States (including Hawaii, Alaska and Guam), GenTek handling the majority of the southeastern states, and G. L. Williams Associates providing support for Washington DC and beltway states of Virginia and Maryland.

Each of these firms bring strong technical backgrounds to ViaLite customers and have had a long history of success supporting product applications for satcom, defense electronics and especially distributed GPS and server timing, since all three firms represent Microsemi.

ViaLite director of sales Craig Somach stated that commensurate with their dynamic sales growth, these appointments continue to strengthen ViaLite's geographic coverage across the USA for its advanced RF over fiber systems, and ensures that their customers receive the local and timely support they have been accustomed to.
Their further expansion to the ViaLite sales network maintains the commitment to provide their customers with the highest level of technical knowledge combined with excellent first line of support.