[SatNews] The RSCC Express-AM7 satellite was delivered to Baikonur on February 19, 2015. This is in preparation for the launch of a Proton-M/Breeze-M with the Express-AM7 satellite on board that is scheduled for March 19, 2015.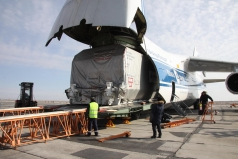 On orders from RSCC, the Express-AM7 spacecraft was manufactured by Airbus DS (formerly EADS Astrium), using the heavy-lift Eurostar 3000 platform. AM7 carries up to 80 transponders in the C-, Ku- and L- bands.
The Express-AM7 satellite was built on off-budget funding under the Federal Target Program, Development of TV and Radio Broadcasting in the Russian Federation in 2009–2015. The satellite is intended for support of TV and radio broadcasting, broadband access and multimedia, data, telephony and mobile communications services.