Take an item already in use for one boosting purpose and then repurpose that technology for nexgen space traffic support... that is exactly what the Japan Aerospace Exploration Agency (JAXA) is accomplishing, the Nikkei Asian Review is reporting.
An existing, space observation, SS-520 sounding rocket is expected to slash launch expenses to a tenth of those for the agency's major vehicles, the HII-A and the Epsilon. JAXA hopes to tap the growing international market for smallsats, which measure in the tens of centimeters and have such applications as crop management, urban planning and communications. Expect this rocket to push smallsats into orbit as early as December of this year, reducing launch costs for the agency.
The IHI Aerospace rocket is 10 meters high and has a diameter of around 50 cm. The launch vehicle will blast off from the Uchinoura Space Center in Kagoshima Prefecture. Success could provide a new means of launching the smaller satellites. The science ministry is expected to grant safety certification as early as October.
The first payload is expected to be a 3 kg satellite developed by the University of Tokyo that will be placed into an elliptical orbit 200 km above the Earth. The Japanese government seeks to expand the country's space business and plans to strengthen satellite launch operations.
---
SmallSat Business Opportunities Don't Launch On Their Own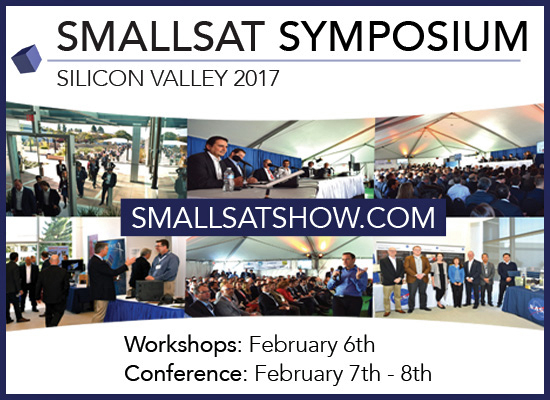 One of the fastest growing sectors within the satellite industry is... smallsats. This environment is rich with business potential, both for companies that have already committed their resources to work in this market segment as well as for firms considering their entry into these exciting territories.
To assist companies and individuals with acquiring smallsat knowledge, an upcoming event is certainly a "must attend"— SMALLSAT Symposium—Silicon Valley 2017.
Subject matter expertise from the actors already involved in the development, manufacture, launch and command and control of smallsats will be resident to offer their insights to this event's fortunate attendees.
Additionally, those participating in the SMALLSAT Symposium will have the opportunity to network with the most prominent smallsat professionals from around the globe. Sessions will be conducted by the executives and leaders who are changing the SATCOM industry… for the better.
Acquire the knowledge to understand what is required for you and your company to secure market share and to develop the core and advanced competencies for the next stages of smallsat growth.
The SMALLSAT Symposium will unlock the business aspects, technologies and the financial and legal acumen that comprise the foundation of today's rapid growth in the small market.
A broad range of thought-provoking panels and speakers who will present their visionary ideas culminated from years of business experience are brought together, once again, to offer thought provoking presentations that will culminate in a thorough exposure of smallsat expertise that will envelope attendees with that all important acquisition… knowledge.
For further details, please visit this event's infosite at smallsatshow.com/.