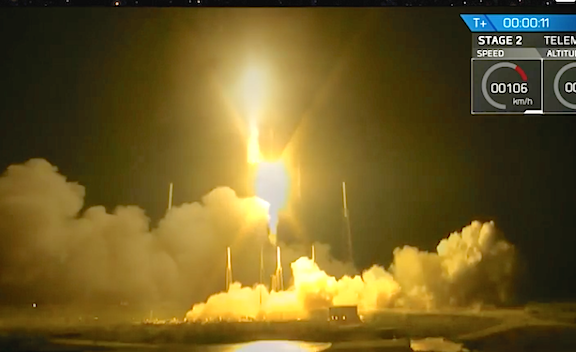 Today's successful launch makes it number four, so far this year, for SpaceX.
And, even better, SpaceX's Falcon 9 rocket launched its payload, JCSAT-14, a Japanese communication satellite, and then the the Falcon 9's first stage booster returned with a high-speed landing on a platform of a drone ship in the Atlantic Ocean. SpaceX has both demonstrated that it can land the Falcon 9 at sea, and that the company can repeat the process. This is especially significant as it greatly reduces expenses when the booster can be reused.
The JCSAT-14 spacecraft will be operated by Sky Perfect JSAT Corporation, a Japanese telecommunications company formed in 2008 through the merger of Sky Perfect Communications, JSAT Corporation and Space Communications Corporation. Space Systems/Loral constructed the satellite, which is based on the SSL-1300 bus.
JCSAT-14 was the ninth geostationary communications satellite launched by SpaceX, with Friday's mission the eighth time Falcon 9 has targeted a geosynchronous transfer orbit.
Due to all the factors involved the successful return of the Falcon 9 didn't seem likely. However, on Monday, CEO Elon Musk upgraded the chances to "maybe even" just before launch. Because of the satellite's destination, SpaceX originally said that the rocket would be "subject to extreme velocities and re-entry heating, making a successful landing unlikely."
Previously, the company had only been able to recover its Falcon 9 twice post-launch, after making multiple landing attempts over the past year and a half. The first success was in December, when the rocket touched down at a ground-based spaceport in Cape Canaveral, Florida. The second landing occurred in April, but that time the Falcon 9 landed on a floating drone ship in the Atlantic Ocean. '