Spaceflight will be launching 11 spacecraft in early January from India's Polar Satellite Launch Vehicle (PSLV).
The Spacecraft include Finland's ICEYE-X1 SAR microsatellite, Planetary Resources' Arkyd-6 6U asteroid prospecting demonstration cubesat, four Spire Global Lemur-2 cubesats, Astro Digital's Landmapper-BC3, AMSAT's Fox-1D cubesat, and others.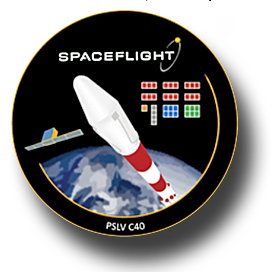 Spaceflight performed the cubesat integration at its Seattle Integration Facility and is in the process of shipping the smallsats to India for the PSLV-C40 mission. The PSLV rocket is scheduled to lift off from India's Satish Dhawan Space Center in early January 2018 with the Cartosat-2ER navigation satellite, in addition to Spaceflight's rideshare customers.

One first-time customer on the mission is Finland's ICEYE with the country's first commercial satellite, ICEYE-X1. ICEYE developed their own synthetic-aperture radar (SAR) sensor technologies suitable for satellites under 100 kg. in weight, making this satellite one of the larger payloads on the PSLV-C40 mission. This is ICEYE's first proof-of-concept smallsat mission with a SAR sensor as its payload and also the world's first SAR satellite in this size, enabling radar imaging of the Earth through clouds and even in total darkness. Potential use-cases for the data are monitoring sea ice movements or marine oil spills, and prevention of illegal fishing.
Spaceflight offers customers the most options for getting to space, working with nearly every global launch vehicle provider, including the Falcon 9, PSLV, Antares, Cygnus, Electron, Soyuz and others. Much like buying an airline ticket that is valid on multiple airlines, Spaceflight can ensure organizations have flexibility to move vehicles if changes or delays occur. Additionally, the smallsat rideshare service model helps organizations reach a desired orbit at a much lower cost than buying their own launch vehicle.

Spaceflight has negotiated the launch of more than 120 satellites on behalf of its customers and has contracts to deploy nearly 200 more through 2018. The company plans to coordinate and deploy its largest launch to date in 2018 with its first dedicated rideshare mission aboard a SpaceX Falcon 9.

Curt Blake, the President of Spaceflight, said that PSLV-C40 is a perfect example of how the company's flexible, full-service rideshare model is enabling new commercial space businesses to exist while expanding into new markets. This mission brings new customers from outside the industry into space while continuing partnerships with existing customers for their ongoing satellite constellations.

Rafal Modrzewski, the CEO and Co-Founder at ICEYE, added that working together with Spaceflight to schedule and make this launch a reality has been an outstanding experience for ICEYE, and has given the company the necessary opportunities for scaling up operations for the firm's constellation of micro-SAR satellites, as planned.