[SatNews] A royal gathering of a Royal Princess and the Royal Scientific Society...
As in its previous editions, over 500 senior executives from over 25 countries will attend Arab Advisors Group's 11th Convergence Summit 2014 to deliberate market trends and growth strategies in the TMT space in the Arab World. 40 speakers from 15 countries will address the ongoing trends in the regional landscape including:
Next Generation Broadband Networks
Online & broadcast media,
Payment solutions in M-commerce & E-commerce
Satellite platforms role in the convergence ecosystem
Policies required to ensure timely and sufficient investments in infrastructure
M2M and Internet-of-Things in the Arab World
Under the royal patronage of HRH Princess Sumaya Bint El Hassan, President of the Royal Scientific Society, the 11th Convergence Summit, will take place in Amman on the 2nd and 3rd of June 2014 at the Four Seasons Hotel. Her Royal highness will be addressing the summit at the opening ceremony.

The summit comes amidst changing dynamics of telecom use and media consumption in the Arab World. Adoption of OTT apps for instant messaging and free call is increasing rapidly in the region, affecting operators' revenues mix. According to Arab Advisors Group's recent surveys, around 97 percent and 95 percent of Internet users who have smartphones in Oman and Saudi Arabia use Instant Messaging applications, respectively. In addition, more than 60 percent of these respondents in both countries use free call applications.

The Arab World's markets are diverging in the deployment of new broadband technologies. By May 2014, eight countries in the Arab World had some deployment of LTE networks, with more countries in line to start offering these services in the near future. Moreover, fiber optics based services are picking up in the region, with the majority of countries in the Arab World having the necessary infrastructure, and cities such as Dubai, Abu Dhabi and Doha leading the way.

Regarding media consumption patterns, Pay TV adoption is growing in the Arab World: the number of Pay TV subscribers has exceeded 12 million by the end of 2013, and Arab Advisors Group projects it to reach 18.8 million by the end of 2017.
"Arab Advisors Group is proud to organize the 11th edition of the Convergence Summit. Owing to the trust of the industry leaders that speak at the summit and the continued support of the sponsors, it has become the premier event on convergence dynamics in the region. This year, we have allocated a major session for convergence related start-ups to showcase their ideas and innovative services," Jawad Jalal Abbassi, Founder and General Manager of Arab Advisors Group said.
The 11th Convergence Summit is sponsored by Paltel Group, Sony Mobile, Umniah, Zain and Orange. The summit is also supported by DAMAMAX, Globitel, Arabsat, ESKADENIA Software, MENAITECH, Dubai Internet City, Dubai Media City, FTTH Council MENA, The Central Bank of Jordan, Aramex International and int@j
For his part, Zain Jordan Chief Executive Officer, Ahmed Hanandeh, assured on the importance of the conference in highlighting the vital role played by the joint between Telecommunications & the media sectors, along with the importance of this integration in increasing the flow of information between different communities, and improving the level of services provided to citizens in attracting more investments, in addition to enhancing the business and trade volume.

"The high speeds which will be available by the 4G, that Zain will be launching during the 4th quarter of this year, which will include the kingdom's governorates, will expose new prospects for the home entertainment concept, such as Internet Protocol Television IPTV, and multimedia applications, video conferencing , broadcasting content in high resolution, managing video blogs for educational programs and entertainment, along with the ability to upload videos to social networking platforms with exceptional speeds. The new technology provides more flexibility in deploying modern technological trends such as cloud computing, e-learning, e-health and e-finance. Video streaming, video calling and accessing to social media platforms will be available to the citizens, as a kind of different life elements."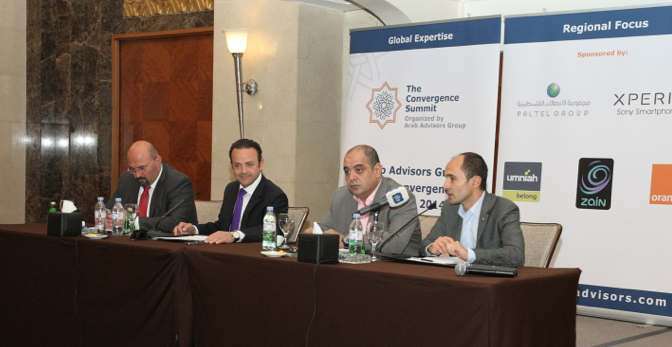 "We are keen on sponsoring this summit every year because it tackles topics of importance to our industry. This year's event theme is in line with our company's goal, which aims at maintaining our position as the operator of reference in the Kingdom. It also forms a vital platform to discuss with telecom and media leaders topics and challenges facing these two industries," said Jean-Francois Thomas, Orange Jordan's CEO.
Thomas pointed out that his company is keen on playing an active role in positively changing the digital scene through the constant development of its infrastructure and network, in addition to introducing innovative telecom solutions and products. This is driven by the company's commitment to developing the local ICT sector, thus making Jordan a regional information and communication technology hub as well as enriching the customers' experience and facilitating their everyday lives.
The Director of Government Relations and Regulatory Affairs, Khaled Hudhud said: "Every year Umniah is always keen to sponsor and participate in the Convergence Summit that is organized annually by the Arab Advisors Group, due to the important role it holds being an innovative platform that discusses the latest developments in the ICT sector and highlights a great opportunity for Umniah to benefit from the expertise of local, regional and international companies."

Hudhud later reiterated the importance of this year's summit where it will highlight the latest challenges the ICT sector is facing due to the high competition found in the local market resulted a sharp decline in industrial revenues. Also to add, the global competition triggered by the invasion of new mobile applications as well as the recent government decisions in implementing high taxes causing operators to struggle in upgrading their 3G and 4G technologies.
Mr. Ammar Aker, the CEO of Paltel Group, alluded to the role of the Paltel Group in effectively raising the bar of the ICT and Data services in Palestine. Moreover, he also stressed the Group's contribution in spreading up to date technology solutions to the market place, using its vantage point as the first Telecommunications Company in Palestine. He stated, "We were able to dedicate all our resources in order to upgrade the ICT sector be it via improving the infrastructure or the intrusion of new technologies and advanced services across all sectors. Our intervention in the sector has contributed positively to the ability of government and civil services to provide better standards in crucial areas such as health; education and other services".
Over the summit's two days, delegates will interact with an impressive array of speakers that include (alphabetically):
Ms. Doha Abdelkhaleq (Managing Partner, ESKADENIA Software)
Dr. Jon Anderson (Professor, Catholic University of America)
Mr. Sylvain Attal (Director of new-media & internet news-room, France 24)
Mr. Faris Awartani (Chairman & CEO, FTTH Council MENA)
Mr. Francis Barel (Business Development–MENA, Paypal)
Ms. Maha Bahou (Executive Manager, Central Bank of Jordan)
Mr. Sam Barnett (CEO, MBC), Mr. Thierry Bouffioux (Founder & CEO, Distribution Advice)
Mr. Mohamed Burhan (CEO, CNBC Arabia), Dr. Paul Doany (Managing Director, Doany & Partners)
Mr. Luigi Gambardella (Vice President of Telecom Italia)
Mr. Fadi Ghandour (Founder & Vice Chairman of Aramex)
Mr. Ahmad Hanandeh (CEO, Zain Jordan), Mr. Ghassan Hasbani (Founder & CEO, Graycoats)
Mr. Ihab Hinnawi (CEO, Umniah)
Dr. Imad Hoballah (Chairman and CEO, TRA Lebanon)
Dr. Joe Khalil (Assistant Professor, Northwestern University)
Mr. Jack Knetsch (Managing Partner, Prime Mover Consultancy)
Mr. Madhur Kripal (Senior business development leader, Tech Mahindra)
Mr. Mohamad Mourad (Regional Manager Gulf, Google)
Mr. Rafat Nawawi (CEO, Virgin Mobile Middle East & Africa)
Mr. Tim Peters (Principal, A.T. Kearney UAE Ltd.)
Fadi Qutaishat (Vice President, Globitel)
Mr. Moheb Ramsis (Senior Director, Business Development, Qualcomm)
Mr. Hesham Rowaihy (Western Region Manager, Badir Program)
Mr. Santino Saguto (Partner Deloitte & Touche)
Mr. Nael Salah (Managing Director, ESKADENIA Software)
Mr. Orkun Saitoglu (Startup Lead, EMEA, Paypal)
Mr. Fares Sayegh (General Manager, Roya TV)
Mr. Nabil Shanti (VP & COO, Arabsat)
Mr. Sami Smeirat (Vice President / Chief Enterprise Officer, Orange)
Mr. Philippe Vogeleer (Executive - External Affairs, Vodafone Group)
Mr. Jawad Abbassi (Founder and General Manager, Arab Advisors Group)
As part of its vision to advance the knowledge and technology industries in the Arab World, the Arab Advisors Group has waived the delegate fees for telecom and broadcast operators. Also press members can attend the summit at no charge. As for paying delegates, they receive their choice of Arab Advisors Group reports for the same value of the registration fees.
The 11th Convergence Summit 2014 will take place at the Four Seasons Hotel in Amman on June 2&3 2014.
For more details and Online Registration please visit the summit's website at.
(Arab Advisors Group): Arab Advisors Group, a member of the Arab Jordan Investment Bank Group, is a specialized research, analysis and consulting company focused on the communications, media and technology markets throughout the Arab World (MENA) region. The Arab Advisors Group's scope of services include providing primary research based analysis, market sizing forecasting, the competitive landscape, the regulatory landscape, market research, technology developments, market opportunity and risk assessments.
The Arab Advisors Group's team of analysts in the region has produced close to 3,900 reports on the Arab World's communications and media markets. The reports can be purchased individually or received through an annual subscription to Arab Advisors Group's (www.arabadvisors.com) Strategic Research Services (Media and/or Telecom).
To date, Arab Advisors Group has served over 700 global and regional companies by providing reliable research analysis and forecasts of Arab communications markets to these clients. Arab Advisors Group provides reliable research, analysis and forecasts of Arab communications, media and technology markets.
Arab Advisors Group Strategic Research Services (Media and Telecoms) are annual subscriptions. The services cover nineteen countries in the Arab World: Algeria, Bahrain, Egypt, Iraq, Jordan, Kuwait, Lebanon, Libya, Mauritania, Morocco, Oman, Palestine, Qatar, Saudi Arabia, Sudan, Syria, Tunisia, UAE and Yemen.