It's hard to believe that just two months or so ago there was so much unrest in New Guiana that the Space Center was shut down. Arianespace is making up for lost time, not missing a beat, and will host the seventh launch of the year, and the fourth Ariane 5 mission in 2017. Arianespace will orbit two payloads: Hellas Sat 3-Inmarsat S EAN, a "condosat" for Inmarsat and Hellas Sat; and GSAT-17 for the Indian space agency ISRO (Indian Space Research Organization).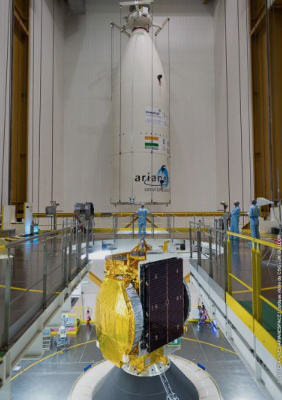 With this 290th mission performed by its family of launchers, Arianespace is at the service of three major satellites operators: Hellas Sat, Inmarsat and ISRO. Arianespace will orbit Hellas Sat 3-Inmarsat S EAN, a "condosat" for Hellas Sat and Inmarsat.
Its Hellas Sat 3 payload, the second Hellas Sat satellite, will deliver DTH (Direct-To-Home) and telecom services maintaining and expanding Hellas Sat business reach.
Hellas Sat (member of the Arabsat Group) is a premium satellite operator, offering services in Europe, the Middle East and South Africa from the orbital position of 39 East. It was established in August 2001 and owns and operates the Hellas Sat 2 high-power satellite.
Hellas Sat 3 will deliver in-orbit back-up DTH and telecom services in its designated coverage areas, maintaining and expanding Hellas Sat business reach with additional capacity and bringing video content in High Definition and Ultra High Definition format to the covered regions. The FSS/BSS coverage zones are Europe, the Middle East and Sub Saharan African countries, including a cross-trap service between Europe and South Africa.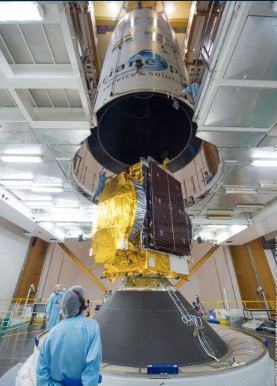 A second Hellas Sat satellite is in Arianespace's order book to enhance Hellas Sat service availability and support the company's business plan to create the next DTH hotspot at 39 East.
The Inmarsat S EAN (European Aviation Network) payload is the ninth Inmarsat satellite to be launched by Arianespace.
Inmarsat is a major provider of global mobile satellite communications services. Since 1979, Inmarsat has been providing voice and high-speed data communications to governments, enterprises and other organizations, with a range of services that can be used on land, at sea or in the air.
The European Aviation Network (EAN) builds upon its vision and commercial and technological challenges created by the European Commission's DG CONNECT and subsequently supported by Member State telecoms regulators.
EAN is being brought to Europe in conjunction with strategic partner Deutsche Telekom. Scheduled to commence commercial services in the second half of 2017, EAN will deliver the most advanced aviation passenger Wi-Fi experience and provide Europe's aviation industry with an opportunity to build global leadership in aviation passenger Wi-Fi.
Inmarsat S EAN, the satellite component of the new network, will be placed into geostationary orbit over Europe, providing continent-wide S-band connectivity.
GSAT-17 will be the twenty-first satellite from ISRO to be launched by Arianespace. Since the launch of the Apple experimental satellite on Ariane Flight L03 in 1981, Arianespace has won 87 percent of the geostationary orbit launch contracts that the country has opened to non-Indian launch systems.
Built by ISRO, GSAT‑17 will strengthen ISRO's current fleet of 17 operational telecom satellites. It will provide continuity of Fixed Satellite Services (FSS) in Normal C and Upper Extended C bands. It also will provide Mobile Satellite Services (MSS) in S-band and Data Relay and Search and Rescue services in UHF band.
ISRO fosters the use of space to help develop the Indian subcontinent. It focuses on all types of space applications, including Earth observation, telecommunications, broadcasts of educational programs, science and navigation.
The long-standing strategic partnership between ISRO and Arianespace furthers the strong relationship between India and France in the space sector.
After choosing Arianespace to launch its GSAT-17 and GSAT-18 satellites in 2015, ISRO selected Arianespace to launch its GSAT-11 satellite.