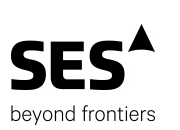 SES (Euronext Paris:SESG) (LuxX:SESG) and the Luxembourg Ministry of Foreign and European Affairs have agreed that that should extend their contract to maintain and support SATMED, an e-health satellite platform, until 2020.
Under the new contract, SES will continue to:
develop the SATMED platform and its medical applications
support the platform's data-hosting facility
provide full user support with single point of contact

The agreement also includes the extension of the service to support new medical tools, as well as the provision of satellite connectivity over Africa, the Philippines and Bangladesh.
The SATMED solution is designed to connect doctors and nurses based in remote locations to the outside world. Healthcare professionals will use satellite connectivity to access the platform's medical applications such as e-training, accessing patients' e-medical records, virtual consultation, and video conferencing. SATMED is also aimed at supporting regional development programs and humanitarian operations in cooperation with both governmental and non-governmental organizations. Connectivity is enabled by the SES satellite fleet, while the SATMED web-applications and the encrypted back-ups are hosted in a secured data hosting facility in Luxembourg. Once deployed, the platform is delivered as a fully-managed service and includes helpdesk, maintenance of terminals and continuous user training.
Gerhard Bethscheider, Managing Director of SES Techcom Services pointed out that since 2014, they had 10 SATMED deployments across Africa and Asia. The contract extension will help SATMED reinforce its positions as an internationally recognizd e-health platform and, what is paramount for them, is to continue to bring innovative e-health solutions to remote communities. They are also looking forward to integrating new tools in the platform.
The minister for Development Cooperation and Humanitarian Affairs, Romain Schneider informed us that extending the contract with SES will enable them to develop healthcare through the SATMED platform on a global scale. The platform they are providing together with their partner NGOs has already helped improve healthcare in countries like Benin, Niger, Philippines and Bangladesh, among others. With the provision of satellite connectivity over other regions, they hope to open the doors to new deployments and further enable accessibility to healthcare for all, in line with SDG (Sustainable Development Goal) number three... and leaving no one behind.
SES will present SATMED in more detail at Med-e-Tel, the International e-health, telemedicine and health Information and Communications Technology Forum, which will take place from April 5 to 7 in Luxembourg.
More information about the event