A one day delay of SpaceX's Falcon 9 launch for a secret military mission proved to be successful 24 hours later. Just one minute before the original launch date, Sunday, April 30 a faulty sensor on the booster's first stage was discovered. SpaceX said technicians replaced the sensor in time for another successful countdown Monday of the mission codenamed NROL-76.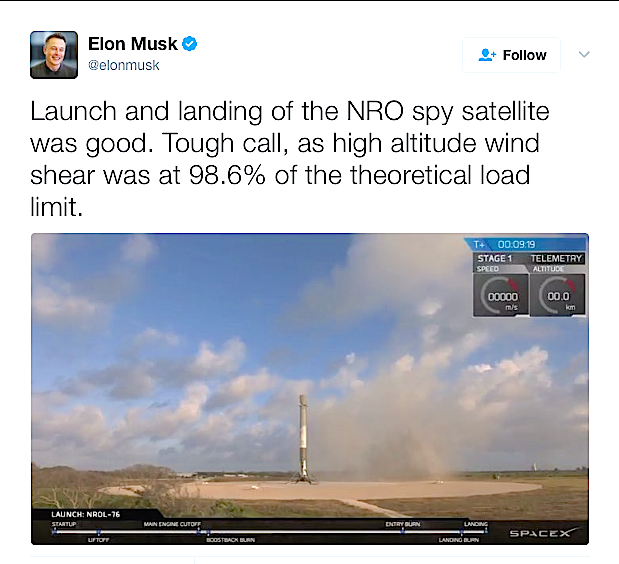 The identify of the classified National Reconnaissance Office payload remains a secret payload for a US government spy agency. However, it was no secret that the SpaceX rocket successfully returned to Cape Canaveral for a pinpoint landing. SpaceX's chief executive Elon Musk confirmed a good launch and landing on Twitter around 20 minutes after liftoff.
The launch took off from launch pad 39A at NASA's Kennedy Space Center with 1.7 million pounds of thrust at 7:15 a.m. EDT (1115 GMT), as nine Merlin 1D engines gave the Falcon 9 rocket a thundering sendoff. The sound waves from the rocket's kerosene-fueled engines rattled windows at the spaceport's press site around three miles from the pad about a half-hour after sunrise along Florida's Space Coast.
After the noisy launch the nine Merlin main engines shut down after approximately a couple of minutes, and the lower part of the rocket separated from the Falcon 9's second stage a few seconds later. A single Merlin engine on the upper stage successfully guided the mission's secretive satellite into orbit. The webcast stopped after the initial launch as the National Reconnaissance Office requested the information blackout during the rest of the launch sequence in a effort to keep the satellite's final orbit and mission a secret.
Three of the Merlin engines at the base of the launcher ignited to slow the rocket's descent, and grid fins helped stabilize the first stage descent through a thicker air stream deeper in the atmosphere. Lastly the booster's center engine started up just seconds before braking for touchdown and the four landing legs extended as the rocket approaching Landing Zone 1 at Cape Canaveral Air Force Station.
All tolled the entire sky show lasted for nine minutes from launch to touch down landing on a concrete pad just nine miles (15 kilometers) south of where the Falcon 9 took off, whereupon an inspection will determine if the rocket is capable of participating in another mission.