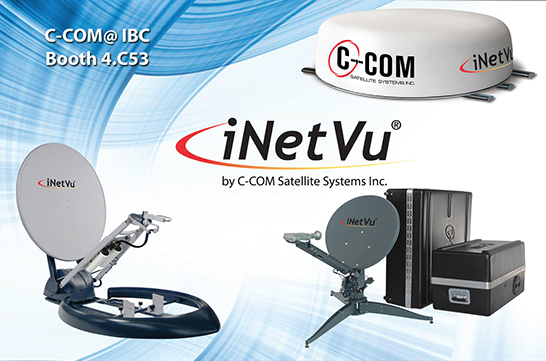 As the date draws nearer to IBC 2016 in Amsterdam, from September 9 through September 13, companies are presenting their 'latest and greatest'. C-COM will be exhibiting at booth 4.C53 with their new Ka-band inMotion terminal.
C-COM's next generation Ka-band SOTM (Satcom-On-The-Move) antenna is expected in Q1 2017. Rumor has it that a Ku-band offering is also likely to be completed and in production at the same time. Both units will use standard bandwidth.
Also on display will be:
C-COM's iNetVu® FLY-75V Flyaway system that is both Viasat and Eutelsat approved for use on respective Ka-band networks in the US and Europe.
Ku-band iNetVu® 1202 Drive-Away Antenna is one of C-COM's newest vehicle mounts, which is field upgradeable to Ka-band, is capable of simultaneous three-axis movement, and supports up to 100W Redundant BUC directly on feed arm; the antenna is available with or without a Pod.
Both antennas work with the iNetVu® 7710 Controller equipped with the latest search algorithms to provide Cross-Pol performance, and acquisition is within minutes anytime, and anywhere.