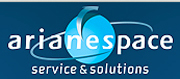 The initial Ariane 5 that will loft four global positioning satellites for Europe's Galileo navigation system has initiated the complex build-up at the Spaceport in French Guiana for this milestone Arianespace mission that will occur in November.
This launcher is an Ariane 5 ES version that began the integration process earlier in the week, with the cryogenic core stage's being positioned over a mobile launch pad, followed by integration of the vehicle's two solid propellant boosters. Designated as Flight VA233 in Arianespace's numbering system, the mission's Ariane 5 is being assembled inside the Spaceport's Launcher Integration Building. Once completed under the direction of production prime contractor, Airbus Safran Launchers, the launcher will be moved into the Final Assembly Building where Arianespace takes responsibility for installation of the four Galileo spacecraft.
Arianespace already has orbited 14 Galileo spacecraft, all lofted in pairs on seven previous missions using the company's medium-lift Soyuz launcher—the most recent such launch was conducted last May. Europe's Galileo navigation system provides highly accurate global positioning services under civilian control. The European Commission funds and manages its Full Operational Capability (FOC) phase, during which the network's complete operational and ground infrastructure will be deployed; with the European Space Agency designated as the system's design and procurement agent.
For the maiden Ariane 5 mission at the service of Galileo, Arianespace's heavy-lift vehicle will be equipped with a dispenser system that secures the quartet of Galileo satellites in place during ascent and then deploys them in rapid sequence at a targeted release altitude of 23,222 km.
The four spacecraft were built by OHB System in Bremen, Germany, with their navigation payloads provided by Surrey Satellite Technology in the United Kingdom.