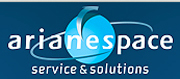 [Satnews] The Ariane 5 for Arianespace's ninth mission of 2015 is now fully assembled, following the integration of its two telecommunications satellites at the Spaceport in French Guiana.
During activity in Ariane 5's Final Assembly Building, the upper payload component—containing Australia's Sky Muster spacecraft mounted on the SYLDA dispenser system, and protected by an ogive-shaped fairing—was lowered into position over the Argentinian ARSAT-2 relay platform, which was previously installed atop the launcher's central core.
This step clears the way for final checkout, which will enable the Launch Readiness Review to be conducted on September 28, followed by Ariane 5's rollout to the Spaceport's ELA-3 launch zone the following day, and an evening liftoff on September 30.
To be deployed first during the 32-minute mission is Sky Muster, which will be operated by nbnT—a service provider owned by the Commonwealth of Australia. This company's objective is to ensure all Australians have access to fast broadband as soon as possible, at affordable prices and at the least cost to taxpayers.
Sky Muster is the initial satellite to be orbited by Arianespace for nbn, and the spacecraft was built by SSL (Space Systems Loral). With an estimated liftoff mass of 6,440 kg., the relay platform is designed to deliver broadband services from geostationary orbit to more than 200,000 rural and remote Australians, providing coverage across the entire country, including the Norfolk, Christmas, Macquarie and Cocos islands.
A second nbn satellite will be launched on a future Arianespace mission.
ARSAT-2 is installed in the lower payload position on Ariane 5, and will be released as the mission's second passenger in the flight sequence. With a liftoff mass of approximately 2,975 kg., this satellite was built under the responsibility Argentina's INVAP and will be operated by the state-owned Argentinian operator ARSAT to provide direct-to-home television (DTH), Internet access services for reception on VSAT antennas, along with data transmission and IP telephony.
Arianespace launched the predecessor ARSAT-1 satellite on an Ariane 5 in October 2014.
Arianespace's September 30 mission with Sky Muster and ARSAT-2 will maintain the company's fast-paced 2015 launch schedule, which foresees a total of 12 missions this year using its complete launcher family: the heavy-lift Ariane 5, medium-lift Soyuz and lightweight Vega.