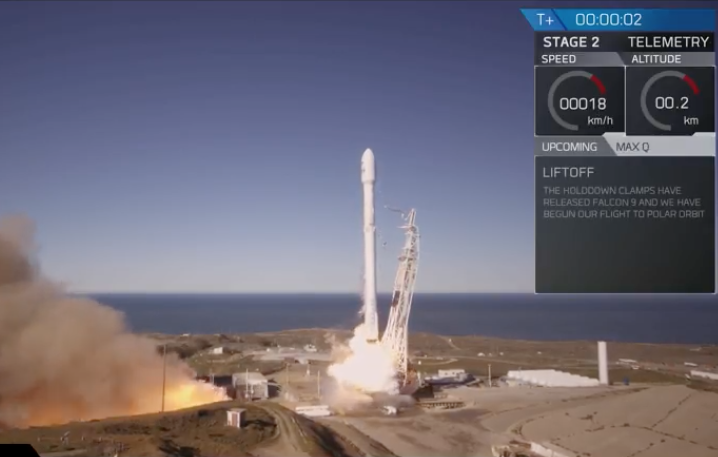 The Satnews team was onsite to witness the doubly successful launch of SpaceX's Falcon 9 soar through the atmosphere to eventually release 10 of Iridium's NEXT satellites. The team described the sensation as bone shaking even from the distance of three miles. While down on Earth the booster successfully descended at sea on the company's automated drone ship aptly named Just Read the Instructions.
The flight took off on schedule at 9:54 a.m. PST (12:54 p.m. EST / 17:54 GMT) Saturday, January 14, 2017, at Space Launch Complex 4 East on Vandenberg Air Force Base in California.
As Falcon 9 soared 10 Iridium NEXT satellites, built by Thales Alenia, were released into low-Earth orbit (LEO) and are the first members of Iridium Communications' next-generation satellite constellation that will total 72 spacecraft, which will provide communications and data services across the globe. With each of the 10 satellites weighing approximately 1,874 pounds (850 kilograms) the total payload was within the Falcon 9 Full Thrust's performance capacity.
Everywhere Under One Sky
This is the start of a series of Iridium NEXT launches scheduled over the next 18 months, and marks the beginning of one of the biggest "tech refreshes" in history, completely replacing the only satellite constellation providing 100-percent truly global communications coverage. Once fully deployed, Iridium NEXT will enable a new broadband multi-service capability called Iridium CertusSM, while providing the technical flexibility to support innovative new services and technologies from Iridium's extensive partner network. Among those technologies is a unique hosted payload from Iridium's partner Aireon, which will provide a real-time global aircraft surveillance service, extending aircraft visibility across the planet.
The first 10 Iridium NEXT satellites were delivered to a 625 kilometer (km) temporary parking orbit where they will be tested and exercised by Iridium over the coming weeks. Upon meeting testing and validation requirements, the satellites will then be moved into their 780km operational orbit and begin providing service to Iridium's customers. One-by-one, the new satellites will be positioned near a current generation satellite, each moving at approximately 17,000 miles per hour as testing begins. Iridium's unique inter-satellite communication links from nearby satellites will be repositioned to point to the new Iridium NEXT satellite as it prepares to take over service. Existing satellites will eventually be de-boosted and de-orbited.
"This is one of the largest commercial satellite systems being built today," said Iridium CEO Matt Desch. When Iridium signed with SpaceX in 2010 to launch 70 Iridium-NEXT satellites, valued at $492 million, it was the largest single launch deal ever engaged.
"Today Iridium launches a new era in the history of our company and a new era in space as we start to deliver the next-generation of satellite communications," said Matt Desch, chief executive officer of Iridium. "We have been working endless hours for the last eight years to get to this day, and to finally be here with 10 Iridium NEXT satellites successfully launched into low-Earth orbit is a fulfilling moment. We are incredibly thankful for all of the hard work from our team, as well as our partners, to help us achieve this milestone."
Both Thales Alenia Space, System Prime Contractor for the program, and their subcontractor for production, Orbital ATK, have been integral in the development of the Iridium NEXT program, from the design and manufacturing of the Iridium NEXT satellite vehicles to managing an 18-station, state-of-the-art assembly line production system.
SpaceX CEO Elon Musk was also impressed with Iridium's goal, "The Iridium-NEXT constellation is the most ambitious, innovative thing in space communications that is going to happen anytime this decade."
https://www.thalesgroup.com/en/worldwide/space/space