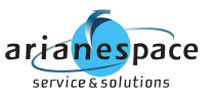 Satellite preparations for Arianespace's next Ariane 5 mission are now in full swing with the arrival in French Guiana of the second passenger: BRIsat for Indonesia's PT. Bank Rakyat Indonesia (Persero) Tbk.
BRIsat was delivered by a chartered Antonov An-124 cargo jetliner, which touched down at Félix Eboué Airport near the French Guiana capital city of Cayenne. The satellite's environmentally-controlled shipping container was then unloaded and prepared for transfer by road to the Spaceport—located approximately 60 km. to the northwest—where it will undergo processing in the S5 payload preparation facility. Once it begins operations in orbit, BRIsat will serve as a dedicated relay platform for banking connection services across the Indonesian archipelago.
BRIsat is one of two SSL-built (Space Systems Loral) satellites to be lofted on the next Ariane 5 mission, designated Flight VA230 in Arianespace's launcher family numbering system and scheduled for liftoff in June. It will be accompanied on the heavy-lift launcher by EchoStar 18, which arrived at the Spaceport last month and has now completed its fueling in the S5 payload preparation facility.
EchoStar 18 will join the fleet of U.S.-based EchoStar Satellite Services, which delivers video distribution, data communications and backhaul services for media and broadcast organizations, direct-to-home providers, enterprise customers and government service providers.
The Ariane 5 mission with BRIsat and EchoStar 18 will deliver its passengers to geostationary transfer orbit, and is one of up to 12 missions planned during 2016 with the company's launcher family composed of the heavy-lift Ariane 5, along with the medium-lift Soyuz and lightweight Vega.