[SatNews] Much has been said in the past few days since news of Google's interests in providing satellite Internet became public.
At NSR, having seen one constellation too many go "down" before going "up." we like to remain cautiously optimistic about such plans. Although admittedly, the signs have us leaning more towards optimism than caution this time around.
"Google's mission is to organize the world's information and make it universally accessible and useful." [Source: http://www.google.com/about/] The key words here being accessible and universally. Furthermore, five out of Google's Ten Things philosophy are quoted as-is below:
"Focus on the user and all else will follow
It's best to do one thing really, really well
Fast is better than slow
You don't need to be at your desk to need an answer
The need for information crosses all borders" – [Source: http://www.google.com/about/company/philosophy/]
It does seem that a service for providing Internet access that is fast, universal, accessible and across borders, needs an answer that involves satellites, drones, balloons or all of the above.
That's fine for philosophy. What about the Numbers?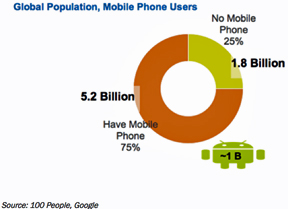 Approximately ~5 Billion of these have one or more Mobile Phones. What could Google possibly do here? Build Android, Check! Did it work? At almost 1 Billion people using Android in 2014, only six years after Android first launched, it seems to be working just fine. Staggering, actually.
Equally staggering is the fact that ~1.2 Billion people worldwide are Unique Google Users, i.e., warm bodies who use the Google search service monthly. Yes, monthly! Some might be equally surprised that there is still a percentage that does not use Google.
Source: 100 People, Google
The exhibit to the left gives a different view altogether. ~5 Billion of people have no access to the Internet. A surprising number when you think how frustrating it gets when you don't have WiFi coverage at home or 3G / 4G on the go. So how does Google get to the other "unconnected" 5 Billion if they don't even have Internet access? Wait for the telecom behemoths of the respective countries in Africa, India, China, Rest-of-Asia and Latin America etc. or Do-It-Yourself?
Many of them exclusively access the Internet from mobile phones. Should Google invest in 3G / 4G in the above countries as well? No need, really. It would be easier to let the likes of Vodafone, Zain and China Unicom build their cellular tower networks themselves. Piggy-back by giving "Free" access to the public for Google-only services on cellphones and you've got an ever-increasing mobile phone population "Googling" for information
Now for the Caution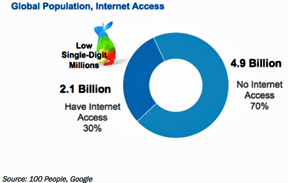 History, however, has not quite favored satellite-based constellations, particularly in LEO, for providing data connectivity across the globe. The table to the left covers just a few known names, some live, some not-so-much. Almost all systems had big names backing them when they started. Very few have actually met expectations.
There were many reasons these systems saw failure beyond what they had anticipated. The dot-com bust of 2000 was one, poor planning against GSM roaming usage was another. Use cases not holding up in terms of personal telephony and/or enterprise usage of satellite-based systems was an important one as well. Has the data consumption environment changed, now that so many people want so much high-speed data on all their devices, all the time? Surely. Have satellites also evolved in terms of multi-spot-beam, frequency reuse giving Gigabits of throughput? Definitely. Is a HTS satellite based constellation the answer to this problem? It might just be.
Why Only Satellite Then?
Google Fiber may be lightning fast access but is painfully slow to build. The offering launched to the public in 2011, work for which probably started in 2009-10. By the end of 2013 there were only Kansas, Provo and now possibly Austin ready to sell? A "measly" one city per year! The now-planned 34 cities may not take three decades, but will still take time even if efforts and resources were multiplied significantly. Laying fiber, or even leasing it to build a consumer ISP network is a slow and painful affair summed up in three words - Right of Way.
If Google would have launched an HTS GEO satellite (pure speculation), all of North America would have been covered in 3 to 4 years from start to finish. Every major continent in 5, if Intelsat Epic's plans are to be believed. The best part—satellite based Internet access systems are already live, unlike those from drones and balloons. ViaSat's Exede, for example, claims speeds of 12Mbps to the end user. It also offers "Unlimited Access" for $64.99 per month. Gigabit Internet from Google Fiber retails at $70 per month in Kansas.
What Are The Correct Ingredients To Make This Fly?
At the drawing board, the parameters are finite. In space, there are Orbit & Frequency that decide Number of Satellites & Antennas and finally affect Latency & Coverage. LEO ensures minimum latency but needs more satellites and fancy antennas. MEO reduces satellites but increases latency and radiation hardening and still needs cumbersome antennas. GEO is too crowded, high latency and ubiquitous coverage in any frequency band is not easy to get. On the ground, people consume the Internet either at home or (increasingly) on-the-go. Handsets have 3G / 4G and WiFi as radios with the latter being more ubiquitous and less regulated.
The rumor "fuel" of Google's impending acquisition, the "spice" from recent hires and a dash of speculation point at LEO, Ku-band, HTS with small satellites that are easy to replace. The last mile could be cellular 3G/4G, which would mean Google's system becomes backhaul like another O3b. Unlikely. Alternatively, a fancy "Kymeta-like" antenna system could make it easier to connect Points-of-Presence on the ground, with final delivery over Wi-Fi. Tough to deploy. Anything that requires an additional radio in today's fragmented "mobile" handset market would see slow take-up. Anything that caters only to "fixed" homes via a conventional dish will hit a glass ceiling that the ViaSat's and Hughes' of the world will likely experience in the near future.
It is obvious that the right answer is not simple, even though the final product needs to be... just that. Especially if it has to provide even "3G-like speeds" to the remote villages of India, China or Africa. Any combination of the above ingredients requires significant investment, and here is where Google's ad-driven pockets come handy.
NSR's Bottom Line
Google today can afford to invest in any and every technology, market and business plan that helps more people access the Internet farther and faster. The finer print there is that the majority of people going online are using Google's search and apps services. The ads generated therein will end up paying for all such systems and will still leave cash to spare. NSR believes that given a couple of years, there will in all probability be a satellite / drone / balloon version of Google's ISP plans. Our collective "gut" says HTS satellites in LEO will be the "killer" combination, but the lack of past precedence warrants caution.
The reason the "unconnected 5 Billion" still exist is simple—disposable income. For many, this means no cell phones, computers or electricity to power these devices and funds to pay for the monthly service. And if Google's monthly service is looking at an ARPU level of $2 to $5 per month, there will still be gaps to fill. Greg Wyler, who founded O3b (the other 3 billion), wanted to do exactly this, but O3b is now looking at Oil & Gas, Cruise ships, Military and other high-paying verticals to support the business case and ROI. Google's capacity supply play, while fantastic for the satellite industry, finally needs to address these end users and their consumption profile.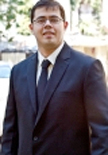 Based in Mumbai, India's commercial capital, Mr. Butani joined NSR in February of 2008 and currently holds the title of Senior Analyst. He has authored first editions of NSR's Direct-to-Home and Satellite Manufacturing & Launch studies along with providing coverage of the satellite and telecom market in India, Middle East and Africa. His areas of expertise include Satellite Capacity Supply & Demand, Direct-to-Home, Satellite Manufacturing, Satellite Launch and Emerging Media Applications. For client specific projects, he has worked on topics as diverse as Satellite Broadband, MILSATCOM, M2M and Equipment Manufacturing. Mr. Butani has also been a speaker at Satellite 2010, Satellite MENA and user meets organised by both Indian Space Research Organisation (ISRO) & industry.
Mr. Butani obtained his Masters degree in Satellite Communications Engineering from the University of Surrey in Guildford, United Kingdom. During this time he was actively involved with the European Space Agency's SSETI project for student-built space missions. He also worked closely with Surrey Satellite Technology Ltd. (now part of Astrium), the satellite manufacturing company on campus focussing on Spacecraft Engineering. Mr. Butani also co-founded the Surrey chapter of the UK Students for Exploration and Development of Space (UK SEDS) society.
After graduating with distinction, Mr. Butani worked with Inmarsat and Avanti Communications in London. At Inmarsat he studied RF engineering of COTM and COTP applications for BGAN's Land Mobile extension. From there, he moved onto Project Management for Avanti's Hylas-1 satellite. While at Avanti, Mr. Butani also consulted to the European Joint Research Centre and European Space Agency under FP6 and FP7 programs. Mr. Butani then moved back to India to join Bharti Airtel in their VSAT business in Middle East designing network solutions for banking and retail customers. For improving pre-sales process efficiency at Bharti, Mr. Butani was awarded the Yellow Belt in Six Sigma Quality Management. In India, Mr. Butani has collaborated with the Indian Institute of Technology, Bombay and S.P. Jain Institute of Management and Research in varying capacity.
The NSR infosite is accessible via http://www.nsr.com/ for further information regarding their reports and analysis.