Inmarsat-sponsored telecoms agency Télécoms Sans Frontières (TSF) supported 1,625,838 people around the world last year—the vast majority of whom were caught up in humanitarian crises.
In its latest annual report, TSF details its work in rapid response operations, mobile health and education projects, emergency preparedness, and bridging the digital divide in remote communities. Jean-François Cazenave, TSF Co-founding Chairman, offered his thanks for the TSF partners' unwavering support, allowing the organization to develop their areas of intervention and to respond to the ever-evolving needs of the humanitarian community and the people that community serves.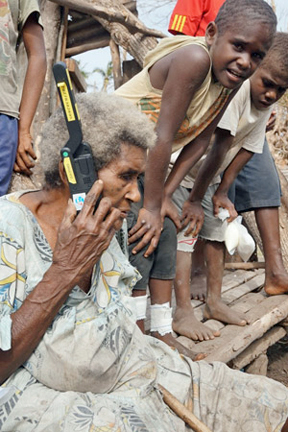 Inmarsat became the first official partner of TSF in 2000 and continues to provide free satellite equipment and airtime wherever the NGO deploys to set up critical first responder telecom centers and humanitarian calling operations. In 2015, nearly 1,125,000 people displaced by natural disasters and human conflict were able to make contact with loved ones, thanks to TSF's humanitarian calling operations. When terrestrial and mobile networks had been knocked out or were overloaded, victims could make a free call using IsatPhone Pro satellite phones.
The UN aid agencies, international NGOs, and government organisations first on the scene in an emergency need to coordinate an effective response, and they rely on TSF to set up telecom centers utilizing BGAN voice and data connectivity.
TSF was deployed following three natural disasters in 2015—Tropical Cyclone Pam, which hit the island nation of Vanuatu in the South Pacific; the devastating earthquakes in Nepal which killed 10,000 and impacted some 2.8 million people; and flooding in Chile, which caused destructive mudslides, cutting off communities.
The conflict in Syria has seen TSF supporting medical relief since 2012. Last year, connectivity was provided to 22 hospitals, clinics, pharmacies and distribution centers. Coordination, security, medical training sessions, telediagnosis and consultation and remote assistance were all enabled, with over 8.7 TB of data transferred to the benefit of over 790,000 people in need of medical aid. Mobile connectivity was also provided to field doctors and ambulance drivers, with over 3,200 minutes of priority voice calls allowing for 28,356 seriously injured individuals to be transported to care units across Syria.
Since the start of 2016, the escalating conflict has forced TSF to withdraw from seven of the health centers in the fiercely contested region of Azaz.
The telecoms experts were also active in refugee camps on the Thailand/Myanmar border, and in Niger and Burkina Faso, as well as at the heart of the migrant crisis in Serbia, Macedonia and Greece.
Ongoing mobile health and education programs with charity partners benefited groups including midwives in Myanmar and Syrian children forced to flee with their families. TSF also expanded its Preparedness Response Systems project in countries vulnerable to natural disasters, and set up telecoms-based community centers in isolated locations in Africa and South America.