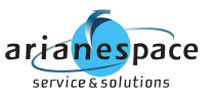 Now fully fueled and ready for ascension are the SKY Brasil-1 and Telkom 3S satellites at the Spaceport in French Guiana for the upcoming Arianespace Ariane 5 mission.
This flight will be the initial Ariane 5 mission in 2017 and the second of as many as 12 Arianespace launches during the year operated with the company's launcher family, which also includes the medium-lift Soyuz and lightweight Vega. Ariane 5's overall payload lift performance for the upcoming flight — set for February 14 from the Spaceport's ELA-3 launch zone — is more than 10.4 metric tons. The two passengers will be deployed into geostationary transfer orbit during a profile that will last just under 40 minutes.
The mission is designated Flight VA235 in Arianespace's numbering system, signifying the 235th launch of an Ariane family vehicle from the Spaceport since the series of European-built launchers entered service in December 1979.
Affixed on the fairing's upper position are logos for the SKY Brasil-1 satellite, to be used by AT&T/DIRECTV via its DIRECTV Latin America subsidiary to expand DTH HD programming. This spacecraft will be separated first during the Flight VA235 sequence and is to provide coverage over Brazil once operational from its geostationary orbital slot. SKY Brasil-1 was built by Airbus Defence and Space in Toulouse, France, using the Eurostar E3000 platform.
Flight VA235's Telkom 3S passenger will be integrated in Ariane 5's lower payload position for release during the mission's second deployment phase. This satellite will provide high-definition television services, as well as mobile communications and internet applications for Telkom Indonesia. The satellite was built by Thales Alenia Space in Toulouse and Cannes, France, using a Spacebus 4000B2 platform.
The Ariane 5 for next week's launch currently is in the Spaceport's Final Integration Building, where it is ready for installation of the two satellite passengers. It was delivered to Arianespace by Airbus Safran Launchers, production prime contractor for the heavy-lift vehicle.
Arianespace's busy mission manifest for 2017 — to be confirmed based on payload availability — foresees as many as seven Ariane 5 launches during the year, joined by three missions via Vega and two with Soyuz. This year's activity began on January 27, when a Soyuz lofted Europe's Hispasat 36W-1 telecommunications satellite on the medium-lift launcher's first mission from French Guiana to geostationary transfer orbit.