[SatNews] Globalstar Europe Satellite Services Ltd., a wholly owned subsidiary of Globalstar Inc. (NYSE MKT: GSAT) and the leader in satellite messaging and emergency notification technologies, today announced that it will support its Value Added Re-seller, FindMyAnimal, at the Global Forum for Innovations in Agriculture (GFIA), Abu Dhabi, March 9-10, as they demonstrate their innovative animal tracking devices, which are enabled via Globalstar's low-powered STX-3 Chipset and LEO Simplex network. Globalstar and FindMyAnimal will exhibit a variety of solutions for the farming community as they explore new ways of using satellite technology to promote sustainability and business efficiencies.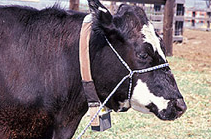 One of the highlights at the show will be FindMyAnimal's satellite tracking animal collar, which are already being used to track over 12,000 valuable sheep and cattle in Norway, monitor cattle in Brazil and endangered species in North Africa.
FindMyAnimal's collar uses Globalstar's satellite network to geo-fence livestock, helping farmers find animals that are close to the edge of a designated area or have escaped. It also gives farmers the opportunity to take a more informed and proactive approach to herding so that they lose fewer animals to predators. When it is apparent that a sheep has not moved in some time, the farmer is now able to send herders to the exact location of the animal, saving valuable time and resources. Farmers deploying the collars have already experienced a significant reduction in the number of animals lost to illness or predators, which has a direct impact on their income.
Over time, the FindMyAnimal system provides a data trail based on tracking and analysis of patterns of where the animals that produced the best quality meat were grazing. The result is invaluable information and insight which can be used to determine the best grazing areas for future seasons.
Globalstar has recently partnered with Broadband Botswana Internet on the launch of a gateway in Gaborone, Botswana, which dramatically increases Globalstar's coverage across sub-Saharan Africa. With the opening up of this new market, Globalstar and its reseller partners are eager to highlight their range of business-enhancing solutions for farming and the agriculture industry in the region. Solutions well suited for this market also include Globalstar's simplex M2M technology which can, for instance, notify farmers about levels of water and feed supply, potentially saving long journeys to remote locations, and helping livestock stay healthy, however far they roam.
At GFIA, Globalstar will be on hand at the FindMyAnimal stand to demonstrate how their portfolio of products can help keep remote farming employees and assets in contact even when they are beyond reach of the mobile phone network.
At GFIA, Globalstar will also demonstrate:
SmartOne™: Designed for the intelligent management of powered and non-powered fixed and movable assets, SmartOne is a practical solution for engine runtime reporting and major fault monitoring for portable construction equipment as well as tracking intermediate bulk containers, vehicles and boats.
STX3™: A low cost, OEM simplex module which sends one-way data messages via the Globalstar Simplex Network when integrated into a tracking or monitoring device. The STX3 is ideal for delivering remote sensing, tracking and monitoring applications.
SPOT Gen3™: A rugged and affordable satellite communications device providing messaging, one-button emergency contact, and GPS tracking. Since 2007, SPOT products have been used to initiate over 3,500 rescues globally.
SPOT Trace™: GPS tracking device using satellite technology to track farm vehicles and other valuable equipment.
"There are now many different ways that farmers can use technology to complement their traditional techniques, but without reliable communication links, these can be ineffective. Satellite can be the missing part of the jigsaw to ensure communications are reliable even in the most inhospitable environments. With the upcoming launch of our new Bostswana gateway boosting our presence in Sub-Saharan Africa, there are new opportunities for the farming industry in the region to use satellite communications to better manage its livestock, assets and employees," said Gavan Murphy, Director of Marketing at Globalstar.