[SatNews] ..."the mission is to defend the interests of public service media and to promote their indispensable contribution to modern society..."
EBU's capacity on AsiaSat 5, Asia's popular sports content delivery platform to broadcasters, will be carrying all the 64 matches in HD format and also all the 4K television production of the 2014 FIFA World Cup held in Brazil. The 4K live coverage includes the matches on June 28 (Round of 16), July 4 (Quarter-Final), and July 13 (Final).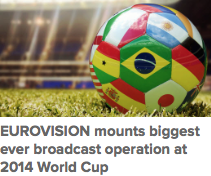 "AsiaSat has been our long-term partner in bringing top quality sports events to their eligible rights-owners broadcasters in the Asia Pacific. We are delighted to work further with AsiaSat for this live 4K transmission of the FIFA World Cup," said Graham Warren, Director of Network of EBU.

"We are excited to be the Asian leg of this 4K global delivery network in addition to the HD television coverage of the 2014 World Cup. We are pleased to be selected by EBU to deliver this high quality leading-edge 4K coverage of this huge global sporting event," said William Wade, President and Chief Executive Officer of AsiaSat.

The EBU is an alliance of public service media organizations, with Members in 56 countries in Europe and beyond. The EBU's mission is to defend the interests of public service media and to promote their indispensable contribution to modern society. It is the point of reference for industry knowledge and expertise.

The EBU operates EUROVISION, the media industry's distributor and producer of live sport and news, as well as entertainment, culture and music content. The EUROVISION satellite and fiber network is directly plugged in to public service media everywhere. Learn more about eurovision and AsiaSat 5 is a Space Systems/Loral's 1300 satellite launched in August 2009, operating at the orbital location of 100.5 degrees East. AsiaSat 5 carries 26 C-band and 14 Ku-band transponders, and has a design life of 15 years. Its powerful C-band footprint covers over 50 countries and regions spanning from Russia to New Zealand and from Japan to the Middle East and parts of Africa. The Ku-band coverage consists of two high powered fixed beams serving East Asia and South Asia, as well as a steerable beam currently positioned over Indonesia.

Asia Satellite Telecommunications Company Limited (AsiaSat), satellite operator in Asia, serves over two-thirds of the world's population with its four satellites, AsiaSat 3S, AsiaSat 4, AsiaSat 5 and AsiaSat 7. The AsiaSat satellite fleet provides services to both the broadcast and telecommunications industries. Over 450 television and radio channels are now delivered by the company's satellites offering access to over 710 million TV households across the Asia-Pacific region. AsiaSat also provides telecommunications operators and end-users services such as voice networks, private VSAT networks and broadband multimedia. AsiaSat's latest satellites, AsiaSat 6 and AsiaSat 8, are scheduled for launch in the coming months. AsiaSat 9 which is on order from the manufacturer is planned to be launched in 2017. It is a wholly-owned subsidiary of Asia Satellite Telecommunications Holdings Limited, a company listed on The Stock Exchange of Hong Kong Limited (Stock Code: 1135). For more information, please visit AsiaSat and EBU.