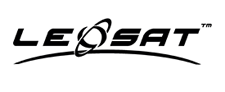 LeoSat Enterprises, which is launching a constellation of as many as 108 LEO communications satellites, has entered into an agreement with DCS Telecom, a telecoms provider of satellite and networking solutions in the Middle East, Africa and Asia.
DCS Telecom will use LeoSat to upgrade their existing satellite solutions, giving customers access to a unique low-latency network which is expected to change data connectivity. LeoSat's system of LEO communications satellites can achieve lower latency and stronger end-to-end security when compared to traditional satellite and terrestrial solutions used today. This is achieved through a system architecture using optical inter-satellite laser links which connect the satellites, creating fiber-like symmetry at Gigabits speeds while providing total security as the data is encrypted and secured from end-to-end across the network, with no terrestrial touch points.

For Enterprise customers, the key attributes of the LeoSat system can be used for a number of applications, for example, to give banks secured networks with their foreign offices, provide enormous uploading bandwidth for oil & gas exploration, enable seamless connectivity for shipping and fleet management or provide the only native 4G and 5G satellite backhaul connectivity for cellular operators. LeoSat can offer competitive advantage in existing satellite services markets in the MENA region and beyond and will help expand these markets by enabling new opportunities through previously unavailable levels of performance combined with worldwide reach.
LeoSat's Chief Commercial Officer, Ronald van der Breggen, said that Global Enterprises today require instant infrastructure from anywhere to everywhere which is fast, secure and reliable. LeoSat is taking data networking into space, setting a new bar for high speed data connectivity. For companies such as DCS Telecom looking to provide innovative connectivity solutions, LeoSat can help to open-up new markets and deliver business growth.
Essam Khalil, CEO of DCS Telecom added that at DCS Telecom high-quality managed networks services throughout Asia, the Middle East and Africa are offered. The company specializes in tailored solutions and the implementation of innovative technologies and are excited to add LeoSat's unique new LEO system architecture to the firm's portfolio. LeoSat is what data communications has been waiting for and DCS Telecom expects this to be a good fit for our government and military customers, corporate networking and mobile backhaul as well as oil & gas customers.