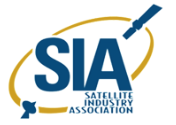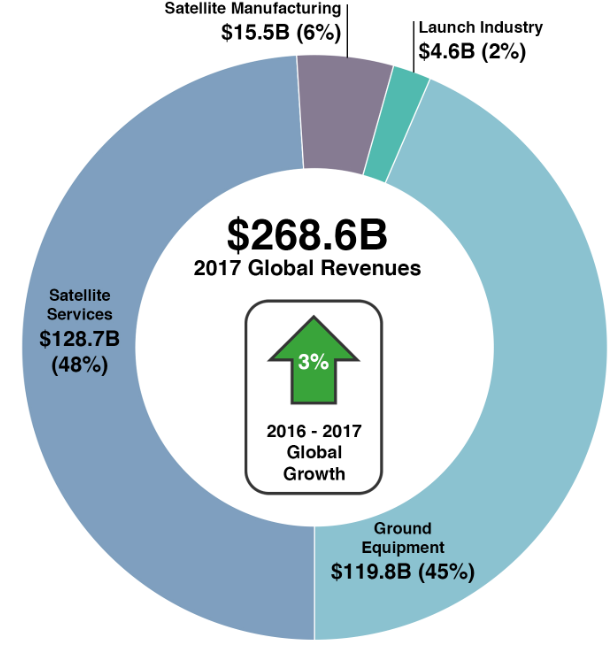 Since 1997, SIA has released its annual analysis of the satellite industry, and now the 2018 State of the Satellite Industry Report, produced by Bryce Space and Technology, LLC, was presented ​at an industry briefing at the National Press Club in Washington, DC. The 2018 industry report, is derived from proprietary surveys of satellite companies, in-depth public information, and independent analysis that are combined to assess the performance of key satellite industry sectors including satellite services, manufacturing, ground equipment and launch services.
A record number of 345 satellites were launched in 2017 with Earth observation satellites making up 49 percent of the total. In 2017, overall satellite industry revenue grew by three percent compared with the previous year led by satellite manufacturing revenues which increased by 10 percent over 2016.
In 2017, satellites services revenue increased over the previous 12 months, led by Earth observation revenue which grew by 10 percent over 2016 and satellite broadband revenue which grew by five percent during the same time period.

Tom Stroup, President of the Satellite Industry Association stated that there is a tremendous transformation that is currently underway in the commercial satellite industry as demonstrated by the record number and type of satellites launched in 2017 and the revenue growth in manufacturing, Earth observation and satellite broadband revenues. These industry trends combined with increasing capabilities of high-throughput broadband and communications satellites and the current development of new constellations demand the continued attention and care of regulators and lawmakers. An efficient regulatory environment and spectrum regime must be managed and maintained if America is to fully embrace the technological innovations offered by satellites and ensure the continued delivery of vital high speed, highly reliable, ubiquitous services to Americans both at home and abroad.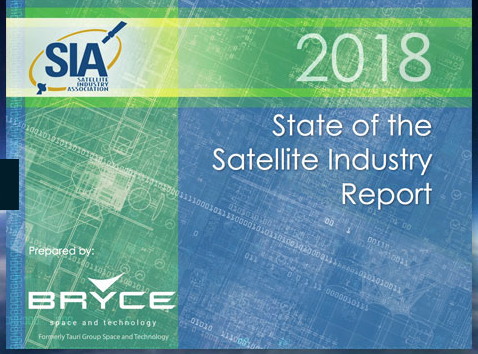 The 2018 State of the Satellite Industry Report highlights include the following results:
Satellite Services revenues remained as the largest industry segment in 2017 and increased to $128.7 billion, powered by consumer satellite television, satellite broadband and Earth observation services.
Satellite Manufacturing 2017 revenues increased by 10 percent over the previous year to $15.5 billion with a record 345 satellites being launched in 2017.
Ground Equipment 2017 revenues rose by nearly six percent over the previous year to reach $119.8 billion. Like last year's report, satellite navigation (GNSS) equipment for both consumer and industrial customers now includes the entire GNSS segment: stand-alone navigation devices and GNSS chipsets supporting location-based services in mobile devices; traffic information systems; aircraft avionics, maritime, surveying, and rail.
Satellite Launch Services Industry A total of 64 commercially-procured launches were conducted in 2017, matching the same number of commercial launches in the previous year. The U.S. had the largest share of commercially-procured launch revenues at 39 percent.
To view a summary of this year's SIA State of the Satellite Industry Report. To purchase a copy of the complete report or for more information please contact SIA via email .