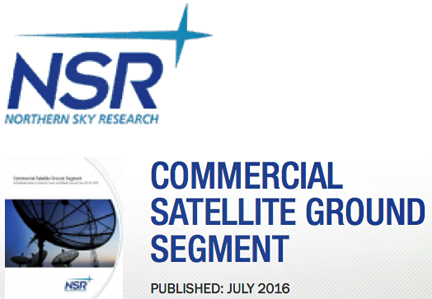 NSR's Commercial Satellite Ground Segment report projects the global market for Commercial Satellite Ground Equipment will grow from $5.6 billion in 2015 to $11.5 billion in 2025, generating more than $100 billion in cumulative revenue.
Mass-markets such as DTH and consumer broadband will generate the majority of shipments. However, high-value markets such as Aeronautical SATCOM and Earth Stations offer large revenue potential and sizable upside for equipment vendors. This NSR report includes analysis of segments unavailable from any other source. Baseband Equipment is witnessing skyrocketing demand from HTS platforms.
The flexibility to serve multiple verticals and the need to adapt to the technical requirements of HTS are essential success factors for the future. Similar prospects are forecasted for the SATCOM Earth Stations vertical, where demand for FSS Broadband and Video will encounter challenges but HTS will spur growth. Earth Observation Ground Segment will remain a relatively small market, but, according to the report's authors, some opportunities will exist via serving emerging EO constellations.

Lluc Palerm, NSR Analyst and report co-author, indicated that global shipments for commercial satellite ground equipment will surpass 57 million units by 2025 across all verticals and regions as technological transformations greatly impact all markets. The transition to HD, UltraHD and smart STBs are generating high growth in the dominant DTH vertical, with HTS as the key transformational force, opening new markets while setting new performance requirements for satellite ground platforms—only the platforms that can best adapt to this new HTS environment will be able to capture the growth opportunities ahead.
Additional report information is available at this direct link...