[SatNews] ....93 percent of respondents suffer from satellite interference at least once a year...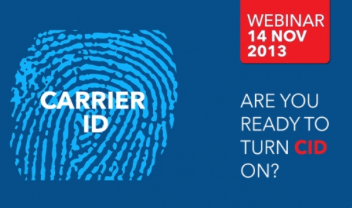 As of January 1, 2014, Carrier ID will be mandatory. To this end, Newtec and a host of Satellite Radio Frequency Interference experts will be presenting a two session webinar.
The session presenters are:
Martin Coleman, Executive Director, IRG and
Steven Soenens, VP Product Management, Newtec.
An introduction will be provided by Kerstin Roost, PR Director, Newtec.
SESSION 1: 14TH NOVEMBER 2013
09h00 (Brussels) / 12h00 (Dubai) / 16h00 (Singapore)
Register Session 1 here
SESSION 2: 14TH NOVEMBER 2013
10h00 (New York) / 13h00 (Brasilia) / 16h00 (Brussels)
Register Session 2 here.
Satellite Radio Frequency Interference is high on the agenda of satellite operators, broadcasters and service providers. Using Carrier Identification (Carrier ID) is key to reduce the impact of RF interference significantly.
According to our joint Carrier ID survey with the satellite Interference Reduction Group (IRG), 93 percent of respondents suffer from satellite interference at least once a year, more than half encounter it at least once a month and 17 percent continuously in their day-to-day operations.
The topic has moved from talking about satellite interference to taking actions. The recent WBU-ISOG resolution, issued in July 2013, sets the requirement to have Carrier ID implemented in your satellite infrastructure by January 1, 2018.
During this free webinar and subsequent Q&A session:
—you will get real answers to the questions "When, Where, and How to implement Carrier ID".
—we will also present the survey results of a joint Newtec-IRG survey on Carrier ID.
Additionally, participants will receive a Carrier ID implementation guide as well as the survey results booklet.