[Satnews] ORBCOMM Inc. (Nasdaq: ORBC), a global provider of Machine-to-Machine (M2M) and Internet of Things (IoT) solutions, and McLeod Software, a leading provider of transportation and logistics solutions, today announced the successful integration of ORBCOMM's two-way communications features for their fleet tracking and monitoring system with the McLeod LoadMaster™ enterprise system.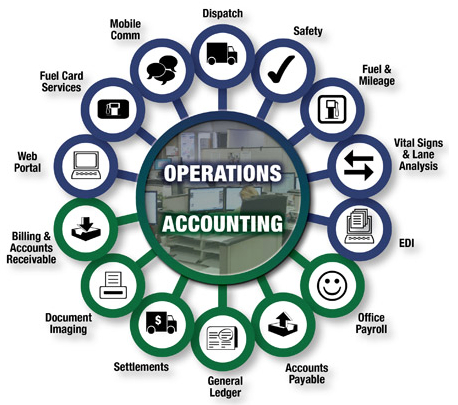 ORBCOMM's advanced platform integrates closely with McLeod's LoadMaster dispatch software to provide trucking companies across North America with the ability to capture near real-time trailer data for both refrigerated and dry transport assets through one comprehensive system.
Leveraging ORBCOMM's GT 1100 dry RT 6000+ cold chain monitoring solution, customers will have access to valuable trailer data, including temperature, mileage, fuel levels, operational condition, alarm events and GPS position. ORBCOMM is currently the only company to offer two-way communications integration with the McLeod system, providing customers with command and control over their assets, including the ability to turn the reefer on/off, set temperatures and switch between continuous and start/stop modes. The ORBCOMM interface will enable McLeod customers to increase asset utilization, enhance customer service and proactively prevent spoilage cargo claims.
"Through ORBCOMM and McLeod's integrated system, trucking companies will gain centralized visibility to their trailers and cargo by providing temperature, fuel level and cargo sensor readings in real time. This valuable information enables the operations team to quickly report and remedy wrong intelliset, temperature and reefer power settings that can reduce the loss of revenue from damaged goods, unauthorized use of trailers or stolen fuel," said Christian Allred, Senior Vice President of ORBCOMM Enterprise Solutions. "Through this integration, we are helping our customers run their business smarter by having access to rich data as it happens and when it is needed."
"We are pleased to work with ORBCOMM to offer our customers the ability to see their entire fleet of trailers on one screen throughout the dispatch process – from pick-up through delivery," said Robert Brothers, McLeod Software's Manager of Product Development. "By leveraging this valuable business intelligence, customers will be able to make more informed decisions about their dry van and refrigerated operations."
"ORBCOMM's seamless integration with LoadMaster enables us to access real-time trailer data, including the order number, through one easy enterprise system, whether our trailers are en route or at the shipper's yard," said Dale Decker, Vice President and Co-Owner of Decker Truckline. "Utilizing ORBCOMM's two-way communications capability, we have complete control over our refrigerated trailers' in-transit temperatures, so we can greatly reduce claims, maximize compliance and provide our customers with the highest level of service."
For more information, please visit ORBCOMM in Booth 219 at the McLeod Software Users' Conference in Birmingham, Alabama from October 4-6.