[SatNews] "...brings a solution to the artificial lift market that significantly improves operational performance for our customers,"
RigNet, Inc. (Nasdaq:RNET), a global provider of managed communications solutions to the oil and gas industry and CPN Satellite Services announced the introduction of a new packaged SCADA solution for use by oilfield service (OFS) companies. The package combines a Hughes 9502 BGAN M2M terminal with a custom enclosure system from CPN to offer OFS companies an efficient and reliable SCADA solution for monitoring electrical submersible pumps (ESP).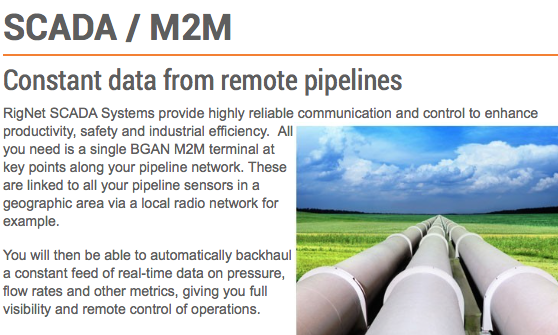 "Packaging equipment from Hughes and CPN along with high availability L-band services into one fully managed solution, RigNet brings a solution to the artificial lift market that significantly improves operational performance for our customers," said Morten Hagland Hansen, SVP of Business Services & CTO of RigNet. "We are excited to be expanding the presence of our managed solutions along with CPN and Hughes in this critical global market."
The CPN enclosure is a custom environmental enclosure system used to house the Hughes 9502 terminal and additional ancillary SCADA equipment. The combination allows RigNet to bring the packaged SCADA solution directly to the oilfield safely and reliably. The Hughes 9502 is C1D2 certified for use in oilfield environments and is coupled with the CPN enclosure, which has been tested by the German safety organization TÜV Rheinland.
Variable speed drives (VSD) are designed to provide reliable power, protection and control of ESP installations with the added benefit of reducing overall operating costs, increasing total efficiency and maintaining system integrity. Combining the right VSD with expert electrical and pump system design, field operation and monitoring throughout the life cycle of the well, OFS companies enhance oilfield profitability by ensuring that wells produce longer and with higher ESP system uptime and reliability. The RigNet SCADA solution monitors, controls and diagnoses ESP systems to minimize costly downtime, reduce potential energy fines and levies, reduce workovers and replacements, prolong pump run life and increase production.
"RigNet and CPN have a great opportunity to support the oil and gas industry with the combination of our expert knowledge," said Thomas Nicolai, Managing Director of CPN. "Customers benefit from the relationship by obtaining access to the latest technology built to the upmost quality standards."
CPN Satellite Services GmbH is specialized in innovative solutions for mobile satellite communication for 25 years. We stand out due to our comprehensive and service oriented offer of services. Our clientele are well known national and international companies, first aid organizations and media companies. We are one of the pioneers in the market and offer innovative solutions for mobile satellite communication since 1989. Our company philosophy is focused on the individual demands of our customers. We offer consultation, realization of projects and trainings as well as After Sales Support. CPN has proven its joy for innovation with the CPN Enclosure, as an example for their in-house developments.
RigNet (Nasdaq:RNET) is global provider of managed remote communications, systems integration and collaborative applications dedicated to the oil and gas industry, focusing on offshore and onshore drilling rigs, energy production facilities and energy maritime. RigNet provides solutions ranging from fully-managed voice and data networks to more advanced applications that include video conference in real-time data services to over 1,100 remote sites in over 45 countries on six continents, effectively spanning the drilling and production industry. RigNet is based in Houston, Texas.