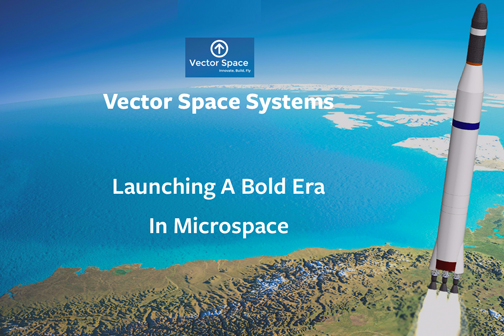 The cost of ensuring payloads are delivered to orbit can be daunting; however, new companies with new technologies have new thoughts regarding how such may be completed at a far lower price point—one of those firms is Vector Space Systems, a what-is-known-as a disruptive space innovator that connects space startups with affordable and reliable launch enabling platforms and vehicles at a cost point never before possible for spatial occupancy.
Vector Space Systems is comprised of new-space industry veterans from SpaceX, Virgin Galactic, McDonnell Douglas and Sea Launch and they have just managed a successful launch of their P-20 rocket, a sub-scale test vehicle for the Vector 1, in advance of orbital launches in 2018. The test, conducted on July 30th in Mojave, California, also carried Vector's first customer payload through a partnership with the Espoo, Finland, company, Iceye, who launched a prototype of their micro satellite's core computing and communications systems to test that unit's electrical and mechanical resilience in a launch environment.

This launch successfully validated the next development version of Vector's high performance upper stage engine that runs on the propellant combination of liquid oxygen and densified propylene. In particular, the flight demonstrated the ignition and operation of a single-piece injector fabricated using 3D additive manufacturing.
Developed by Garvey Spacecraft Corporation and acquired by Vector in 2016, the P-20 rocket is a sub-scale test platform for evaluating critical technologies and functions of the operational Vector launch vehicle's second stage, which is capable of placing 50 kg into LEO.
Iceye is focused on expanding the availability of synthetic aperture radar (SAR) data to support decision making in diverse areas such as trade, exploration, relief efforts, farming, and environmental protection. The company is working to launch and operate a constellation of smallsats that carry their own compact and efficient SAR sensor technology. The firm's first satellite is scheduled to launch in the second half of 2017 and a number of pathfinding ground operations are planned at candidate launch sites early this fall.
Featuring the only launch system dedicated to serving the rapidly growing smallsat market, Vector connects space startups with affordable and reliable launch-enabling platforms and vehicles at a cost point never before possible for accessing space. With this successful launch, Vector remains on track for its first orbital launch in 2018, with
According to Jim Cantrell, the CEO and Co-Founder of Vector Space Systems, this launch, which was the firm's very first vehicle launch as Vector Space Systems, demonstrated the maturity of the applied launch technology, flight operations and propulsion systems as well as the company's commitment to support new-space startups by including a customer payload in their very first launch. He continued that Vector had already quickly and successfully progressed through engine testing and all the way into initial flight operations as well as the inclusion of a customer payload, putting Vector on a fast-track to orbital launches by 2018.
Iceye CEO Rafal Modrzewski added that his company's plans to launch as many as 30 satellites over the next five years will find them working closely with Vector Space Systems as a key partner in launching and refreshing their constellation for years to come.
---
SmallSat Business Opportunities Don't Launch On Their Own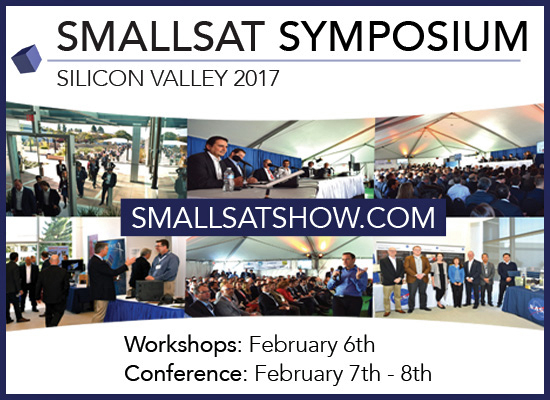 One of the fastest growing sectors within the satellite industry is... smallsats. This environment is rich with business potential, both for companies that have already committed their resources to work in this market segment as well as for firms considering their entry into these exciting territories.
To assist companies and individuals with acquiring smallsat knowledge, an upcoming event is certainly a "must attend"— SmallSat Symposium—Silicon Valley 2017.
Subject matter expertise from the actors already involved in the development, manufacture, launch and command and control of smallsats will be resident to offer their insights to this event's fortunate attendees.
Additionally, those participating in the SmallSat Symposium will have the opportunity to network with the most prominent smallsat professionals from around the globe. Sessions will be conducted by the executives and leaders who are changing the SATCOM industry… for the better.
Acquire the knowledge to understand what is required for you and your company to secure market share and to develop the core and advanced competencies for the next stages of smallsat growth.
The SmallSat Symposium will unlock the business aspects, technologies and the financial and legal acumen that comprise the foundation of today's rapid growth in the small market.
A broad range of thought-provoking panels and speakers who will present their visionary ideas culminated from years of business experience are brought together, once again, to offer thought provoking presentations that will culminate in a thorough exposure of smallsat expertise that will envelope attendees with that all important acquisition… knowledge.
For further details, please visit this event's infosite at smallsatshow.com/.