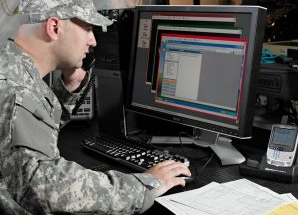 A new fourth generation SOTM antenna will be revealed at IBC in which military users were responsible for helping with the design and development.

Feedback from military users helped design and develop the new Gen IV model. It features improved reliability by increasing mean-time between failures and eliminating cooling fans to improve airflow within the antenna terminals. The new model is also 16 percent lighter, giving terminal operators the opportunity carry additional equipment or increase their agility and efficiency when on-the-move.
General Dynamics SATCOM Technologies will introduce its Fourth Generation (Gen IV) SATCOM On-The-Move™ (SOTM) antenna terminal at the International Broadcast Convention in Amsterdam, from September 9 through 13, 2016. General Dynamics Mission Systems is a business unit of General Dynamics (NYSE: GD).
Mike Guzelian, a vice president of General Dynamics Mission Systems said, "The new GEN IV SOTM design leverages our broad design history and expertise, enhanced by user feedback from field operators and rigorous environmental testing."
The new terminal delivers private, secure voice, video and data satellite communications (SATCOM) for users remotely located or where there is limited access to a satellite network infrastructure. Ruggedized for the most challenging operational environments, General Dynamics SOTM terminals maintain connectivity with satellite networks using the terminal's trusted gyro-stabilization, which provides high-pointing accuracy.

General Dynamics SOTM products come in a variety of sizes and configurations, and the latest model is built on the success of previous versions. The range of models enables customers to install the antennas on ground vehicles, maritime vessels and aircraft to establish secure links to forward operating bases.

https://gdmissionsystems.com