[Satnews] Datum Systems' latest M7 Modem Series' provides bandwidth efficiency and overall data throughput at a low cost. Features such as the FlexLDPC, Sharp Carrier and Smart Carrier cancelling is affordable.
Datum Systems innovation is transforming the SCPC and MCPC modem industry with its fourth generation modular modem product, the M7 Series. The M7 Series is a versatile, compact, affordable and highly efficient satellite modem platform.
"For those who have been delaying the replacement of older or less efficient modems because of high up-front capital unit costs, the M7 solves this conundrum by combining high efficiency with all the bells and whistles into a low cost modem," said David Koblinski, Vice President of Business Development and Marketing.
The M7 includes features such as: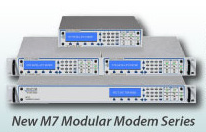 Smart Carrier canceller option – patented, advanced second generation baseband carrier canceller with excellent performance; easy to setup and needs no additional cabling. Smart Carrier is compatible with all Datum modulation types and FECs, and is well suited to be used with roll-off factors down to 5 percent. Datum's technique provides improvement in the Shannon Capacity of ~ 2dB, which is ~50 percent increase in the fundamental channel capacity.
Sharp Carrier roll-off – advanced filter shaping for optimized carrier spacing down to 5 percent as a standard feature. This allows an immediate spectral efficiency increase and significant bandwidth savings at no additional hardware or software cost.
FlexLDPC – unparalleled configuration flexibility and superior coding gain; granular code rates and block sizes get you the most out of your available satellite bandwidth and spectral power, while keeping processing latency at the desired level.
IP Optimization – integrated Acceleration and Compression for cellular backhaul and trunking. Interface platform supports high PPS and jumbo frames.
Standard Extra's– Professional; Web Browser interface with Spectrum Analyzer and Constellation Monitoring, Detailed Event Logging, Remote SNMP, Fast AUPC for PtP, Smart Carrier and PtMP links.
Datum Systems will be at Booth # 4123 at the Satellite 2015 Conference and Exhibition March 16th through March 19th, in Washington, DC.