[SatNews] The Arianespace heavy-lift Ariane 5 mission with telecommunications satellites for two leading Asia-Pacific operators has received the "green light" for its Thursday liftoff from the Spaceport in French Guiana.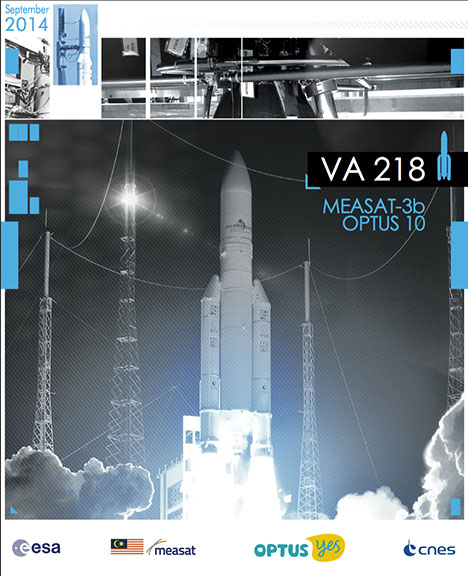 Malaysian-based MEASAT's MEASAT-3b is in the upper position under Ariane 5's fairing, and the Optus 10 for Australia's Optus is the lower passenger. The launch approval was issued following the launch readiness review, which is held prior to every Ariane 5 mission to confirm the heavy-lift vehicle and its dual-passenger payload are flight-ready, along with verifying Spaceport infrastructure and the downrange tracking system. With this step in pre-launch preparations complete, Ariane 5 is now cleared for rollout to the launch zone tomorrow—to be followed by Flight VA218's liftoff on September 11 during an approximately one-hour launch window that opens at 6:21 p.m. local time in French Guiana.
As the third satellite to be launched for MEASAT by Arianespace, the Airbus Defence and Space-built MEASAT-3b will provide DTH broadcasting and VSAT services across Malaysia, India, Indonesia and Australia. Built by SSL (Space Systems Loral), Optus 10—the sixth spacecraft the company is lofting for Optus—will offer direct TV broadcast, Internet connectivity, telephone and data transmission services for Australia, New Zealand and the Antarctic region.
Thursday's mission—designated Flight VA218 in the company's numbering system—will be the fourth Ariane 5 liftoff from the Spaceport this year and the 75th launch of this heavy-lift workhorse, which has performed 60 successful flights in a row.
Follow Arianespace's launch activity at: http://www.arianespace.com/.