The first-ever Remote Sensing Satellite and Technology Evaluation Satellite of Pakistan have become operational from Tuesday.
The two first ever satellite technologies of Pakistan were successfully launched from Jiuquan Satellite Launch Centre in China on July 9th 2018, and have become operative today efficaciously, as revealed by the official Twitter handle of Ministry of Planning and Development and Reform.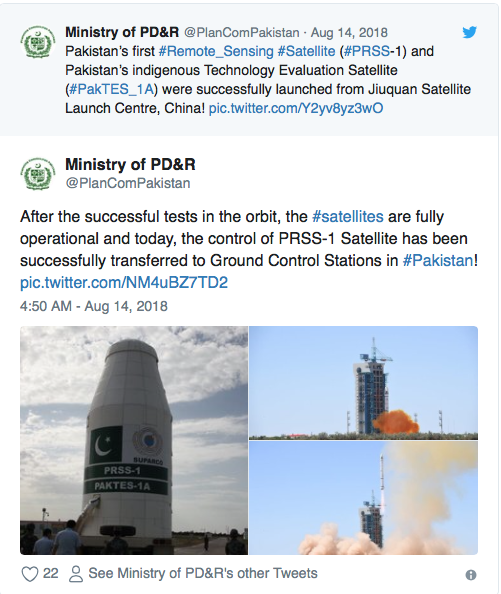 Furthermore it was revealed that subsequent to the satellite systems becoming functional, the control of PRSS-1 Satellite was transferred to Ground Control Stations in Pakistan.
The achievement for the country came on the day of Pakistan's 71'st Independence, on which President Mamnoon Hussain and interim Prime Minister Nasirul Mulk have lauded the efforts of engineers at SUPARCO who were behind the feat, and also hoped that the functionality of these satellites will bring about confidence in the country's space engineers.
The services provided by the satellites are expected to uplift the socio-economic development of Pakistan and "would also enable the country in agriculture classification and assessment, urban and rural planning and water resource management!"
Moreover it was revealed that the PRSS-1 weighing 1,200 kg and the 285 kg PakTES-1A would function at an altitude of 640km and 610 correspondingly.
"The PakTES-1A, indigenously designed and developed by SUPARCO's engineers, is equipped with an optical payload, Global Positioning System (GPS) and Geographical Information System (GIS)," stated the Ministry of PD&R.
It was also revealed that the launch of these satellites has added Pakistan to the list of few countries who are in possession of their own remote sensing satellite in the orbit.
The Ministry went on to unveil that: "#PakTES-1A is a 285 kg satellite equipped with an optical payload commensurate with national needs. It has a design life of three years and will operate at an altitude of 610 km."