The Global VSAT Forum (GVF) is starting the new year off with five new leaders with introductions shown here.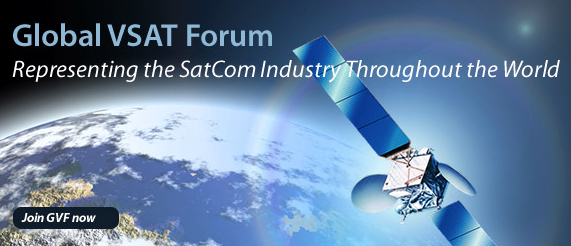 The global satellite industry has confirmed five leading executives to serve on the Global VSAT Forum (GVF) Board of Directors who will lead the association as it continues to build greater awareness of the evolving applications, telecommunication services, and technological advantages provided by satellite broadband and broadcasting solutions.
The election comes at a time when the GVF has been recognized by the Arthur C. Clarke Foundation with a 2016 Sir Arthur Award in International Achievement, in recognition of GVF's effective and staunch promotion of the satellite industry, and by the Society of Satellite Professionals International (SSPI) 2016 Better Satellite World Award, recognising GVF's achievements in training satellite professionals, enabling global disaster preparedness, and coordinating with partners to serve humanitarian solutions around the world.
Four of the Board Members were re-elected to serve a further two-year term in office;
Yasir Hassan, Director of Transmission Operations, ARABSAT
Arunas Slekys, Vice President, Corporate Marketing, Hughes Network Systems
Paul Deedman, Director, Spectrum Regulation, Inmarsat
Michael DeMarco, Senior Vice President, Operations, Intelsat
Newly elected to the Board is Keith Johnson, Senior Vice President of SpeedCast. The five newly-elected Directors join two incumbent members, Simon Gray, Vice President of Humanitarian Affairs, Eutelsat; and Tracey Haslam, President of Harris CapRock Corporation.
"We congratulate the new and re-elected Directors, and look forward to working with the Board to build upon the international association's gains by presiding over important and impactful initiatives for satellite industry growth," said David Hartshorn, Secretary General of GVF. "These industry leaders have been chosen based upon their outstanding track records, and for their vision and commitment to strengthening every link in the value chain."
The GVF Board election was held at the Annual General Assembly on December 6 in London at the Strand Palace Hotel, in conjunction with the GVF High Throughput Satellite London Roundtable. Industry stakeholders and delegates participated in roundtable discussions exploring key market drivers, trends, opportunities and challenges, all of which have been identified as the key priorities for the Board of Directors. Those priorities include the following:
Companies involved in the provision of satellite communications systems and services are eligible to join GVF to support these and other industry programmes. There are two Membership categories: Full GVF Members are eligible to nominate, vote, and to become elected to the GVF Board of Directors; Associate Members are able to participate in all other GVF activities.
The newly elected and re-elected GVF Board Members are:
Yasir Hassan, Director of Transmission Operations, ARABSAT. Mr. Hassan has almost 20 years of experience in the Telecommunication field starting with King Fahad City for Satellite Communication in Saudi Arabia. He joined ARABSAT in July 1998, reaching the position of Engineering Services Head in 2008, and was selected to be the Director of Transmission operation in 2010. Mr. Hassan holds a Bachelor of Science with honour degree in Electrical & Electronic Engineering from Eastern Mediterranean University, Northern Cyprus, and obtained his MBA from University of Leicester, UK in 2005. He also serves as a Director on the Satellite Interference Reduction Group.
Arunas Slekys, Vice President, Corporate Marketing, Hughes Network Systems. Arunas Slekys is responsible for managing all of Hughes marketing communications and advocacy initiatives worldwide. He holds a B.App.Sc. degree in electrical engineering from the University of Toronto, a M.Sc. from the University of Illinois, and a PhD in computer and communications engineering from UCLA. He is the co-author of a founding patent for wireless data systems (CDPD), and is a frequently published author on satellite and wireless communications. Dr. Slekys has served as the elected Chairman of the GVF Board since 2006.
Paul Deedman, Director, Spectrum Regulation, Inmarsat. Mr. Deedman's role in Inmarsat is to ensure that the necessary international spectrum regulations are in place for the continuing operation of the current Inmarsat satellites, network, and future systems. He is involved in CEPT spectrum activities and the ITU-R working parties, most recently on issues such as new regulations for Ka-band mobile terminals (ESIMs) and protection of the L-band MSS spectrum for proposed terrestrial LTE systems. He has participated in all of the ITU World Radiocommunication Conferences since 1997, and has been closely engaged in the regional preparations for WRC. Mr. Deedman joined Inmarsat in 2000, having previously worked for the Radiocommunications Agency, and has an honours degree in Telecommunications from the University of London (Queen Mary College).
Michael DeMarco, Senior Vice President, Operations, Intelsat. Mr. DeMarco leads Intelsat's network engineering, network operations and information system teams, including the company's global teleport operations. With more than 20 years of experience in the telecommunications industry, Mr. DeMarco is also responsible for the company's information system strategy and the delivery of the company's end-to-end service portfolio – including the integration of the Intelsat EpicNG® platform. Mr. DeMarco earned a Bachelor of Science degree in Finance and a MBA from Fairfield University in Connecticut.
Keith Johnson, Senior Vice President, SpeedCast. Mr. Johnson has 30 years and of experience in the Satellite Telecommunication and Energy industries. In his role at SpeedCast, he oversees all of SpeedCast's business activities for the Energy and Oil & Gas sector, including strategic planning, programme management, business development and global sales. He is a member of the Executive Staff, and participates directly in supporting the various strategic acquisitions over the last few years. Mr. Johnson is an author of many published papers on telecommunications, satellite, wireless and IT. He attended Texas A&M University, and graduated from Houston Baptist University with a double major in Marketing and Management.
The two incumbent GVF Board Directors are as follows:
Tracey Haslam has been the President of Harris CapRock Communications, Inc. (HCC) since January 2014. Ms. Haslam is responsible for leading HCC, the premier global provider of managed communications solutions for remote and harsh environments in the energy, government and maritime markets. Ms. Haslam has more than 25 years of experience leading businesses and teams in markets ranging from offshore oil exploration and production to defence, technology and after-market services. She served as Vice President and General Manager of Harris CapRock's energy business. Ms. Haslam received a Bachelor of Science degree in mathematics and engineering from the University of Adelaide in Australia, and a Master's degree in business administration from INSEAD in France.
Simon Gray, Vice President of Humanitarian Affairs, Eutelsat. Mr. Gray is also a member of the ITU Advisory board for developing disaster comms strategy world-wide. He has been elected by the other 8 satellite fleet operators to coordinate the Satellite charter with the UN for the satellite industry. Mr. Gray has worked in the satellite industry for over 20 years and while at Eutelsat has been responsible for the largest training program ever undertaken by a satellite operator. His role in Eutelsat has also encompassed developing a new class of satellite terminal, equipment approval, mobile Apps, training courses & training tools. His team has also been responsible for overseeing over 350,000 terminal installations across 4 continents and he is the point of reference for the Eutelsat fleet for remote terminal technology.