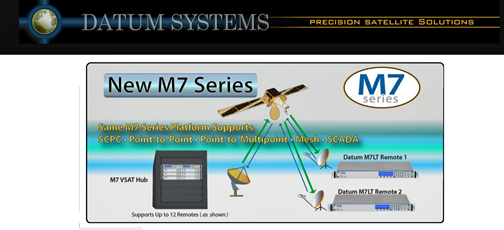 Datum Systems has announced the successful deployment of their modular and highly-efficient M7 modem platform with the newly released DVBS2X card sets—a major service provider in New Zealand has implemented the M7 modem with DVB-S2X technology to connect the Chatham Islands via a high-speed IP satellite link.
This New Zealand archipelago leverages Datum's new M70 Modulator and D70 Demodulator high speed DVBS2/S2X card sets, to deliver up to 350 Mbps of IP throughput, and support advanced features such as higher order modulation, ACM, and Sharp Carrier technology. With unmatched combination of affordability and system flexibility, the Chatham Islands can now seamlessly support growing network requirements without changing the modem hardware. This includes the firm's patented Smart Carrier cancelling.
The M7 modem system is the best in class and most affordable modem platform for provisioning FDMA based networks over traditional FSS and high throughput satellites (HTS) using DVB-S2/S2X without the need to replace satellite modems. Cards can be populated together in an existing M7 modem platform to build duplex DVB-S2/S2X links, or independently mixed with Datum's low latency FlexLDPC card sets for a truly efficient and low cost point-to-multipoint transport network. Satellite service providers, telecom operators and government/military users can design flexible and economical point-to-point or point-to-multipoint FDMA networks based on the near Shannon limit performance and modularity of the M7 system.
"We are delighted that the M7 has been selected as the best modem platform to provide IP trunking connectivity to the Chatham Islands. With the DVB-S2/S2X cards in the M7 modem, their satellite IP network has tremendous upgrade capabilities as the network grows with additional sites and higher throughput," said David Koblinski, VP Business Development and Marketing at Datum Systems.
"The M7 modems that we installed for the Chatham Islands network provide exceptional performance and we are very pleased with the price we paid. We fully expect that we will be adding more modems to our teleport for this network and others," said Keith Ramsay, Director of Engineering and Operations, Gateway Teleport.
"Our M7 platform's flexibility, reliability and efficiency are ideally suited for multipoint IP trunking applications like the Chatham Island as well as cellular backhaul, enterprise VSAT and the military," added Koblinski.
Visit Datum Systems at Booth #738 during the Satellite 2017 Conference and Exhibition ,March 6 through March 9, at the Walter E. Washington Convention Center in Washington, DC.