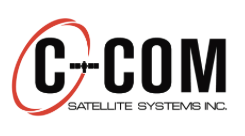 Achieving certification is not a simple process – it's time consuming and costly.
In just over four weeks, C-COM received three new certifications from Satellite Operators and Service providers in the US, UK and Canada for the next generation Ka-band systems.
C-COM also achieved certification with Hughes for use on the Jupiter Network, the first mobile auto-acquire system to receive this designation. Both the Ka-98H and FLY-98H are able to be used in the Jupiter HTS system where mobility and beam swapping is available.
This same iNetVu® products were also approved for use for Galaxy Broadband customers in the far northern parts of Canada where HTS Ka-band solutions have been limited in availability. Additionally, the C-COM 1.2m Ka-band antenna system (iNetVu® Ka-1202G) was approved for use on the Avanti Hylas service.