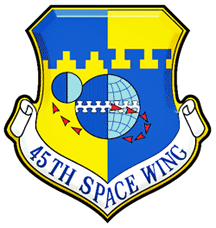 The 45th Space Wing supported SpaceX's successful launch of a Falcon 9 Dragon spacecraft headed to the International Space Station from Space Launch Complex 40 at Cape Canaveral Air Force Station on April 8 at 4:43 p.m. ET.

This was the seventh major launch operation for the Eastern Range this year and was also the eighth contracted mission by SpaceX under NASA's Commercial Resupply Services contract. Science research, crucial hardware and supplies are being delivered via the SpaceX Dragon capsule. Included in the delivery is the Bigelow Aerospace expandable habitat module that will be tested while attached to the ISS.

A combined team of military, government civilians and contractors from across the 45th Space Wing provided support to the mission, including weather forecasts, launch and range operations, security and safety. Serving as the mission's Launch Decision Authority was Brigadier General Wayne Monteith, the 45th Space Wing Commander. "This mission once again clearly demonstrates the successful collaboration we have with our mission partners at NASA and SpaceX as we continue to shape the future of America's space operations and serve as the 'World's Premier Gateway to Space'," he said.