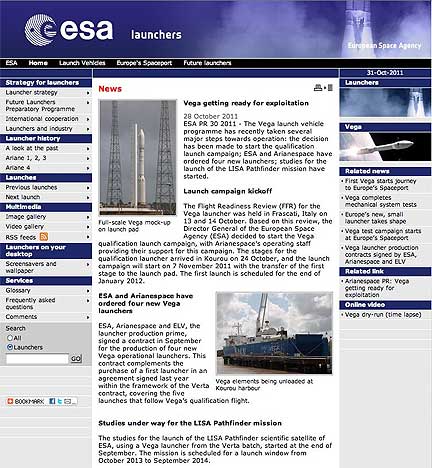 [SatNews] You've got a launch coming up and you need to determine which launch vehicle best serves your purpose — not easy...
until now.
The Vega launch vehicle program has recently taken several major steps towards operation
: The decision has been made to start the qualification launch campaign; ESA and Arianespace have ordered four new launchers;Studies for the launch of the LISA Pathfinder mission have started.
The Flight Readiness Review (FFR) for the Vega launcher was held in Frascati, Italy
on October 13 and 14. Based on this review, the
Director-General of the European Space Agency (ESA)
decided to start the Vega qualification launch campaign, with Arianespace's operating staff providing their support for this campaign. The stages for the qualification launcher arrived in Kourou on October 24, and the launch campaign will start on November 7, 2011 with the transfer of the first stage to the launch pad. The first launch is scheduled for the end of January 2012.
ESA, Arianespace and ELV, the launcher production prime, signed a contract in September for the production of four new Vega operational launchers.
This contract complements the purchase of a first launcher in an agreement signed last year within the framework of the Verta contract, covering the five launches that follow Vega's qualification flight.
The studies for the launch of the
LISA Pathfinder scientific satellite of ESA
, using a Vega launcher from the Verta batch, started at the end of September. The mission is scheduled for a launch window from October 2013 to September 2014.
Starting in 2012 the new Vega launch system will be operated by Arianespace at the Guiana Space Centre in French Guiana, alongside the other two launchers in this European family: the Ariane 5 heavy launcher and the Soyuz medium launcher.
Vega has a payload capacity of 1,500 kg into polar orbit at an altitude of 700 km.
Designed to
handle a wide range of missions and payload configurations, Vega is especially well suited to the launch of small satellites into low or sun-synchronous orbits, thus enabling Arianespace to meet customer demand.
Vega should quickly establish itself as the benchmark launch vehicle in its class.
Vega is a European Space Agency (ESA) program jointly funded by Italy, France, Spain, Belgium, the Netherlands, Switzerland and Sweden. ELV is owned by Avio, with 70 percent, and the Italian space agency ASI, with 30 percent Follow Arianespace's launch activity
at.