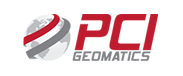 Clouds have a reputation of getting in the way when satellites attempt to provide imagery.
This issue and others will be addressed at a PCI Geomatics Webinar, Multi-Sensor Mosaicking with the Geomatica Platform, on January 29 at 2 PM EST.
Creating mosaics using cloud free satellite imagery can be challenging given the persistent presence of clouds in imagery. The use of multiple sensors is often required to ensure complete coverage over specific areas of interest (AOIs), which can vary in size.

Data from different satellites may have been collected at different resolutions, and / or may also may contain varying spectral channels.
Combining these diverse sources of data seamlessly into mosaics is the purpose of the mosaicking technology within the Geomatica Platform.

What You'll Learn at the Multi-Sensor Mosaicking with the Geomatica Platform
Automatic pre-processing of optical imagery to minimize haze, and create cloud masking layers.
Automated workflows to create mosaics from multi-sensor imagery (in Geomatica and GXL).
Automated and manual adjustments for color balancing using advanced and interactive quality assurance tools.
Post mosaic editing to perform common operations such as cloud patching and exposure correction.
Large scale production workflows through the use of GXL for processing.