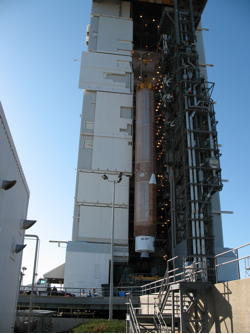 Atlas V is scheduled to launch the Air Force's Defense Meteorological Satellite Program F18 (DMSP F18) mission October 18 from Space Launch Complex-3 at Vandenberg Air Force Base, California, with a launch window of 9:12-9:22 a.m. marking the 600th launch of an Atlas vehicle.
If the launch scrubs, a second attempt will be made on Monday, October 19 with the same launch window PDT.
This is a continuation of a proud tradition that began when the first Atlas A rocket launched from Cape Canaveral Air Force Station, Florida, in 1957.
The inaugural Atlas V launch occurred from CCAFS on August 21, 2002. During the program's history, 314 launches have taken place from CCAFS while 285 have launched from Vandenberg.
The Atlas program has launched numerous important missions, but it may be most famous for launching
Mercury astronauts
John Glenn, Scott Carpenter, Wally Schirra and Gordon Cooper
during the early days of human space flight.
The DMSP F18 mission is the 18th DMSP installment
. DMSP satellites provide
strategic and tactical weather prediction, which aids the U.S. military in planning operations at sea, on land, and in the air
. The satellites are equipped with a sophisticated sensor suite capable of imaging cloud cover in visible and infrared light and measuring precipitation, surface temperature, and soil moisture.
Photo on right: Atlas V Set to Launch DMSP F18 for the U.S. Air Force Marking the 600th Atlas Mission Atlas V DMSP F18 A United Launch Alliance Atlas V rocket is erected at Space Launch Complex-2 at Vandenberg Air Force Base, Calif., in preparation for the DMSP F18 launch set for Oct. 18 at 9:12 a.m. PDT.