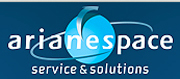 The second of two Space Systems Loral-built (SSL) payloads on Arianespace's upcoming Ariane 5 mission is well into pre-launch processing at the Spaceport, as Indonesia's BRIsat is readied for a June liftoff from French Guiana.
Preparations have included the fit-check, which is a regular milestone for Arianespace spacecraft passengers. This step validated BRIsat's electrical and mechanical compatibility with the adapter that will serve as the interface when integrated with Ariane 5. BRIsat will be riding as the lower passenger during Arianespace's dual-payload mission, which will be the third Ariane 5 flight in 2016. Once in orbit, BRIsat will become one of the world's first communications satellites dedicated to a financial institution, and is configured to provide both C-band and Ku-band coverage of Indonesia and South East Asia.
The spacecraft will serve PT. Bank Rakyat Indonesia (Persero) Tbk. (BRI), the country's oldest and most profitable bank, providing enhanced secure banking communications for more than 10,600 operational branches, some 237,000 electronic channel outlets and nearly 53 million customers across the Indonesian archipelago.
BRIsat is based on the SSL 1300 satellite platform, designed to deliver service for 15 years or longer. In addition to producing the satellite, SSL is providing BRI with a complete ground system solution, which includes two satellite control facilities, as well as training and launch support services.
Riding in the upper payload position on Arianespace's June Ariane 5 mission to geostationary transfer orbit is EchoStar 18, which is to join the fleet of EchoStar Satellite Services. This U.S.-based operator provides video distribution, data communications and backhaul services for media and broadcast organizations, direct-to-home providers, enterprise customers and government service providers. EchoStar 18 also utilizes the SSL 1300 satellite bus as its platform.
The Ariane 5 mission with BRIsat and Echostar 18 will be the fifth of as many as 12 Arianespace flights planned during 2016 with the company's launch vehicle family composed of the heavy-lift Ariane 5, the medium-lift Soyuz and lightweight Vega.
Preceding the June liftoff with BRIsat and EchoStar 18 will be Soyuz Flight VS15, which is to orbit a pair of FOC (Full Operational Capability) satellites for Europe's Galileo navigation system on May 24.