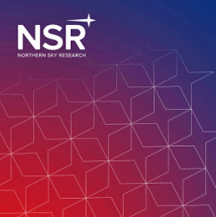 Join NSR as it explores Satellite Capacity Pricing: Entering the Next Epoch with a free webinar on Wednesday, December 20, at 10:00 a.m. EST.
This vital topic affects all within the satellite industry — NSR will provide key analysis as it relates to capacity pricing now and in future. Leveraging NSR's industry-leading Satellite Capacity Pricing Index analysis, this free webinar will answer the following critical questions:
What is the current state of the market? How has the lease price performed historically?
Which key drivers influence price across business verticals?
What are the various growth strategies operators or service providers are currently pursuing?
How does the value chain interact, and what conclusions can be drawn from price wars between operators, service providers and customers?
Are the current price points viable?
Are we close to a mass market, terrestrially competitive, positive IRR game from satellite capacity providers?
Will the industry go all in on price? How much turbulence in lease price can be expected in the next year?

If schedules do not allow for attendance, the recommendation is to sign up for the event, as a copy of the slides and access to the on-demand presentation will be made available... access the registration form at this direct link...