[SatNews] Little squares now have a special space in space.
NASA's CubeSat Launch initiative (CSLI) provides opportunities for small satellite payloads to fly on rockets planned for upcoming launches. These CubeSats are flown as auxiliary payloads on previously planned missions.
CubeSats are a class of research spacecraft called nanosatellites. The cube-shaped satellites are approximately four inches long, have a volume of about one quart and weigh about three pounds. To participate in the CSLI program CubeSat investigations should be consistent with NASA's Strategic Plan and the Education Strategic Coordination Framework. The research should address aspects of science, exploration, technology development, education or operations.
Cubesats Released From Space Station photo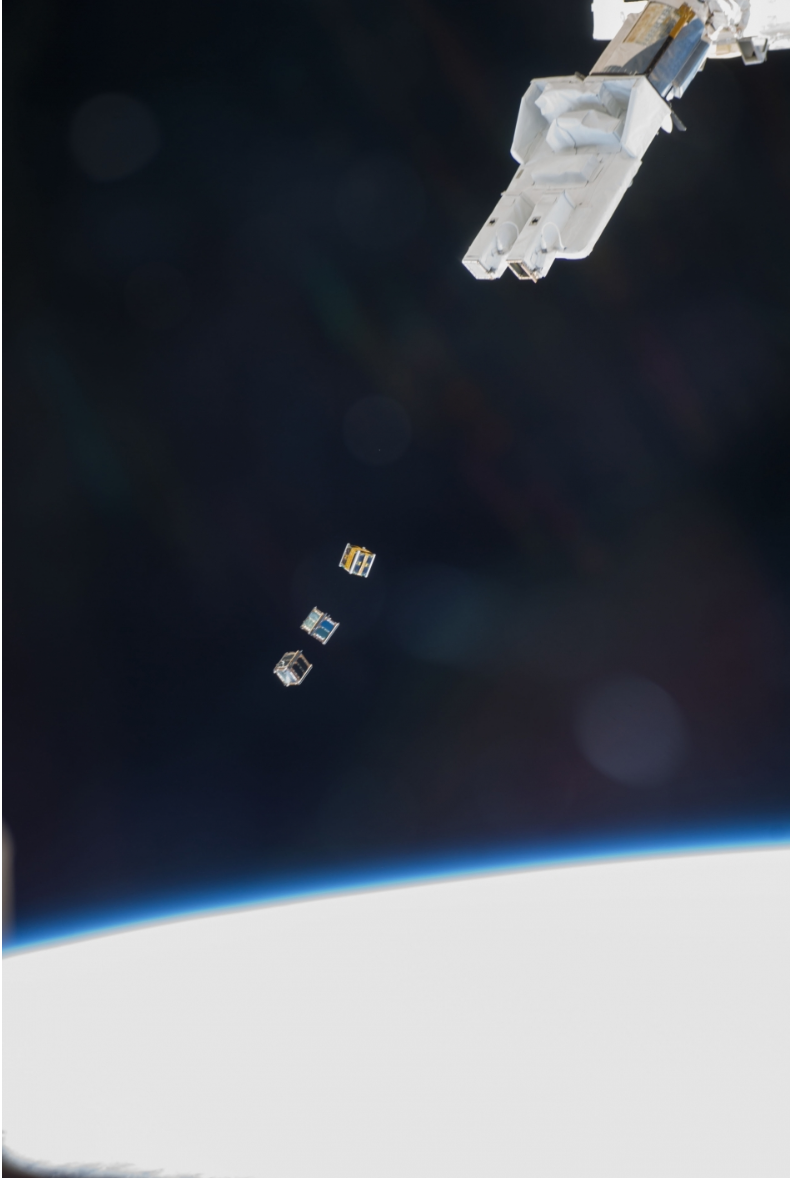 ISS038-E-003872 (19 Nov. 2013)—Three nano satellites, known as Cubesats, are deployed from a Small Satellite Orbital Deployer (SSOD) attached to the Kibo laboratory's robotic arm at 7:10 a.m. (EST) on Nov. 19, 2013. Japan Aerospace Exploration Agency astronaut Koichi Wakata, Expedition 38 flight engineer, monitored the satellite deployment while operating the Japanese robotic arm from inside Kibo. The Cubesats were delivered to the International Space Station Aug. 9, aboard Japan's fourth H-II Transfer Vehicle, Kounotori-4.
Image Credit: NASA

By providing a progression of educational opportunities including CSLI for students, teachers, and faculty, NASA assists the Nation in attracting and retaining students in STEM disciplines. This strengthens NASA's and the Nation's future workforce. Further, the CSLI promotes and develops innovative technology partnerships among NASA, U.S. industry, and other sectors for the benefit of Agency programs and projects. NASA thus gains a mechanism to use CubeSats for low-cost technology development or pathfinders.

Satellites selected to date come from 25 states: Alabama, Alaska, California, Colorado, Florida, Hawaii, Illinois, Indiana, Kentucky, Louisiana, Maryland, Massachusetts, Michigan, Missouri, Montana, North Dakota, New Hampshire, New Mexico, New York, Ohio, Pennsylvania, Texas, Utah, Vermont and Virginia. These locations are depicted below.