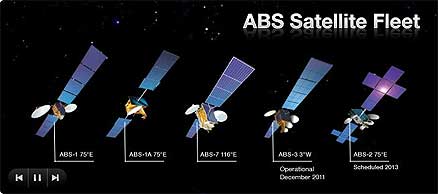 [SatNews] Not a timeshare, not a condo in the basic terminology, but a condosat...
GT Satellite Systems S.A. (GTSS) and Asia Broadcast Satellite (ABS) announced that they have signed a deal valued at over US$ 125 million for multiple transponders on a condosat and lease basis to augment its multiservice capacity on ABS-2.
Subsequent to the multiple transponder lease agreement announced in 2009, GTSS has developed its platform services, including TV channels contribution and
"Raduga TV" Russian and CIS DTH business
, which led GTSS to make a strategic investment to purchase additional condosat transponders on ABS-2, scheduled to be launched in early 2013.
ABS-2 is currently under construction and will have 89 active C, Ku and Ka-band transponders across 10 different beams with a design life of 15 years.
It will be located at ABS' prime orbital location of 75E. ABS-2 is specifically designed for a wide range of services including DTH, Cable TV distribution, VSAT services, Data networks and Telecommunications services. ABS-2 will provide expansion capacity to existing ABS-1 customers.
"We are extremely excited for the success that GTSS has been able to achieve with its ABS satellite platform businesses, including Raduga TV DTH. Our mission has always been to provide exceptional support to our customers, enabling their businesses to succeed," said
Richard Pak
,
Chief Development Officer
. "This new agreement for additional capacity on ABS-2 is a perfect example of why the success of our company is directly tied to the success of our partners, and further confirmation of our close long-term relationship with GTSS."
"Our successful cooperation with Asia Broadcast Satellite (ABS) for over five years, the firm's impressive growth and clear development policy has created a solid ground for our strategic decision to go for a condo-sat solution on ABS-2.
We believe that the premium quality of ABS-based services will provide the most favorable conditions for our present and future clients in Russia and the CIS countries
," said
Anatoly Zyablitskiy
,
Director of GTSS in charge of Strategic Development.