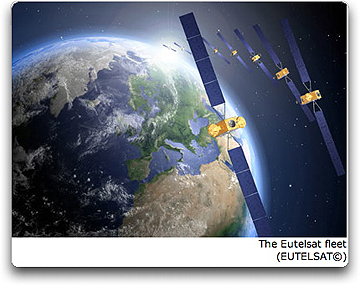 Validation of a job well done, Thales Alenia Space today was signed on again with Eutelsat Communications [Euronext Paris: ETL] to manufacture and deliver Eutelsat's W3C communications satellite. As prime contractor, Thales Alenia Space will be in charge of the design, manufacturing, test and delivery of the satellite.
Eutelsat will select the launcher for the satellite separately at a later stage. Planned for a launch
third quarter 2011
, W3C will provide broadcast and telecommunications services over
Europe, the Middle East and Africa
.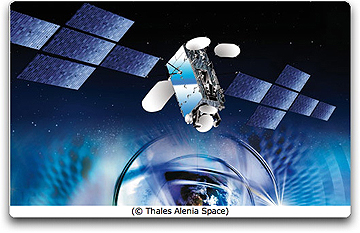 The W3C order follows the loss of W2M which will be replaced by
W3B already one year into construction by Thales Alenia Space
. W3B had the dual mission of accompanying the expansion and in-orbit redundancy of Eutelsat's 7 degrees East position and to
ensuring a solution for continuity of service in the event of the loss of W2M, W2A or W7
. The W3C satellite will
now assure this double mission of boosting by more than 50 percent available capacity at 7 degrees East, or ensuring if required Ku-band continuity for future satellite, namely W2A, W7 or W3B (Left: see photo of W3B)
.
Based on
Thales Alenia Space Spacebus 4000C3
platform, the satellite will be colocated at 7 degrees East with Eutelsat's W3A satellite. Designed with a lifetime of more than 15 years, W3C will provide 3 Ka and 53 Ku-band transponders, will
feature a maximum launch mass of 5.4 tons and will deliver more than 12 kW of electrical power at end of life.
W3C will be equipped with 3 deployable and 2 fixed antennas.
"We are very pleased to have been selected once again by Eutelsat to provide this new powerful satellite" said
Reynald Seznec
President and CEO of Thales Alenia Space
. "This
new contract reinforces the long-lasting partnership that exists between our companies for more than 20 years as W3C is the 19th satellite ordered by Eutelsat from Thales Alenia Space.
" Three other satellites are still to be delivered by Thales Alenia Space to Eutelsat:
W2A to be launched next April 3, W7 and W3B to be launched next summer and mid 2010 respectively.
Thales Alenia Space is present in
four European countries with 11 industrial sites and has an extensive expertise in optical engineering, visible and infrared detection, mechanical and thermal architectures, cryogenics, and assembly, integration and test.