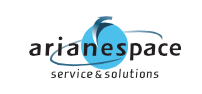 Launches are scheduled for today, February 14 from Arianespace's Guiana Space Center, and other satellites have just arrived on the same day—Brazil's SGDC geostationary defense and secure communications satellite and South Korea's Koreasat 7 telecommunications satellite, both built by Thales Alenia Space are slated for a dual launch on March 21 by Ariane 5. They briefly join Telkom 3S satellite, built by Thales Alenia Space for the Indonesian operator Telkom Indonesia which will launch today, February 14.
The SGDC satellite is being launched for the customer Visiona (a joint company between Embraer and Telebras), and is designed to meet two main objectives: set up secure satellite communications for the Brazilian government and armed forces; and contribute to the National Broadband Plan, led by the operator Telebras and designed to reduce the digital divide in the country. The satellite will weight 5,700 kg at launch and will be positioned at 75 degrees West.
Koreasat 7 will be operated by the Korean satellite services company KTSAT, a KT Corporation company. The satellite will weigh 3,680 kg at launch, and its payload is rated at about 6 kW of power. Along with sister satellite Koreasat 5A, it will provide Internet access, multimedia, broadcast and fixed communications services across South Korea, the Philippines, Indonesia, India, Japan, mainland Southeast Asia and the Middle East.

Telkom 3S will be launched today for the customer Telkom Indonesia. Positioned at 118 degrees East, it will provide HD TV broadcast services, as well as services for businesses, for the interconnection of mobile networks and for Internet backbones. Telkom 3S will weigh 3,550 kg at launch.