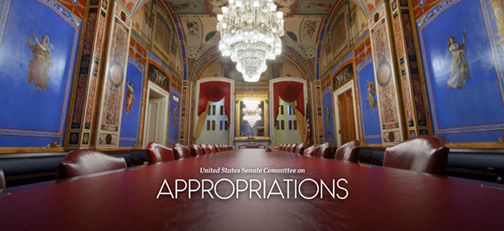 The
Senate Appropriations Subcommittee on Commerce, Justice, Science, and Related Agencies
(CJS) have approved a $70.833 billion funding bill to support space exploration, scientific research, law enforcement, economic prosperity and other national priorities.
The FY2020 Commerce, Justice, Science, and Related Agencies Appropriations Act, which is $6.715 billion above the FY2019 enacted level, funds the U.S. Departments of Commerce and Justice, the National Aeronautics and Space Administration, the National Science Foundation, and related agencies. In addition to funding the 2020 Decennial Census, the Senate CJS bill invests in federal law enforcement agencies, state and local law enforcement grants, space exploration, basic science research, economic development programs, trade enforcement, ocean observations, and weather forecasting.
The bill is scheduled to be considered on Thursday, September 26, by the full Senate Committee on Appropriations.
National Aeronautics and Space Administration (NASA) – $22.75 billion for NASA, $1.25 billion above the FY2019 enacted level, reflecting the need to fund infrastructure for human spaceflight to support for the accelerated plan to return to the moon by 2024 while supporting NASA's science, technology development, aeronautics, and education activities. Using the same account funding structure as in previous years, this includes:
$6.2 billion for Exploration, $1.2 billion above the FY2019 enacted level, to advance NASA's human exploration program by providing $2.586 billion for the Space Launch System (SLS), $1.4 billion for the Orion crewed spacecraft to continue development of NASA's next deep-space crewed capsule, $500 million for the proposed Lunar "Gateway," and $744 million in funding for crewed lunar landers.

$6.9 billion for Science, equal to the FY2019 enacted amount, including $1.9 billion for Earth science, $2.6 billion for Planetary science, $1.2 billion for astrophysics, $423 million for the Webb telescope, and $735 million for Heliophysics.

$784 million for Aeronautics, which is $59 million above the FY2019 enacted level. The funding will allow for ongoing low sonic boom experimental plane development, as well as supporting research in unmanned aircraft safety and airspace integration, and advanced aircraft composite and materials research.

$112 million is provided for the NASA's STEM Engagement education programs, which were proposed to be eliminated in the budget request. Within STEM Engagement, Space Grant is funded at $47 million, NASA's Established Program to Stimulate Competitive Research (EPSCoR) is funded at $22 million, the Minority University Research and Education Project is funded at $33 million, and STEM Education and Accountability projects is funded at $10 million.

$1.076 billion is provided for Space Technology, $149 million above the FY2019 enacted level. Funding is included to advance projects in early stages of development that are expected to eventually demonstrate capabilities needed for future space exploration.
National Oceanic and Atmospheric Administration (NOAA)
$5.337 billion for NOAA to continue core operations including: ocean monitoring; fisheries management; coastal grants to states; aquaculture research; and severe weather forecasting. Full funding is also provided for NOAA's flagship weather satellites, which are critical for accurate weather warnings to save lives and protect property.
National Science Foundation (NSF)
$8.317 billion for NSF, $242 million above the FY2019 enacted level. Funding is provided for basic research across scientific disciplines to support the development of effective STEM programs.
The bill provides $249 million above the FY2019 level for research and $27 million above FY2019 level for education activities. These funds will allow NSF to provide more grants to highly competitive research projects and help provide opportunities to prepare the next generation of STEM leaders.

$190 million is provided for EPSCoR, an increase of $14 million above the FY2019 enacted level.
National Telecommunications and Information Administration (NTIA)
$42.4 million for NTIA, an increase of $2.9 million above the FY2019 enacted amount. Funds are included to enhance the National Broadband Map, to help provide better broadband access for underserved communities which will allow wider national participation and economic growth, and allow NTIA to perform cutting-edge telecommunications research and engineering.